Driver who fled crash gets 10-year sentence
Kapolei man blames medication in fatal accident that killed four and injured eight
A state judge gave a 10-year prison sentence yesterday to a driver who caused a head-on collision that killed four people and injured eight others in 2006.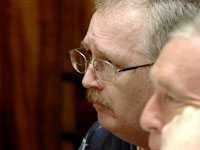 John Szemkow received 10 years for a head on collision that killed four farm workers on Kunia road two years ago.
The 10-year term came for leaving the scene of the accident.
Circuit Judge Derrick Chan also sentenced John Szemkow, 47, of Kapolei to one year in prison for each of four counts of misdemeanor negligent homicide, which will run at the same time as the 10-year term.
Chan denied the state's request to stack the prison terms back to back. He also denied Szemkow's request for probation or a deferral of his no-contest pleas to eventually clear the charges from his record.
He said he found it difficult to accept that Szemkow did not stop after the April 24, 2006, collision, which was accompanied by loud screeching tires and a big cloud of dust.
"And the fact that you continued to drive on while another motorist honked her horn at least five times for you to stop is absolutely unacceptable," Chan said.
Szemkow addressed the relatives of the victims in court and offered them not an apology, but his condolences. He blames his medication for causing him to drive his car into the path of an oncoming pickup truck full of farm workers on Kunia Road.
The pickup truck swerved out of the path of Szemkow's sedan and crashed head-on into a
40-ton concrete mixer truck. Aquilina Polendey, 59, and Ana Sacalamitao, 46, both of Waipahu, and Gertrudis Montano, 59, and Lorna Laroco, 53, both of Ewa Beach, died when they were ejected from the back of the pickup.
"Because of all the unexpected factors surrounding the events that morning — more personally, how I was involved because of the effects of my medications on me — I decided that morning to never drive again," Szemkow said.
Deputy City Prosecutor Russell Uehara said, "He shouldn't have been driving in the first place."
When court staff members interviewed Szemkow prior to yesterday's sentencing, he accepted no blame for what happened and showed no remorse, Uehara said.
"He blames the victims for riding in the bed of a pickup truck, saying that was the cause of their deaths," he said.
But Szemkow's lawyer, Sam King Jr., said his client expressed how sorry he is from the beginning and suffers nightmares and sleepless nights over what happened.
Yesterday was just his first opportunity to express that publicly, he said.
King said Szemkow takes five types of powerful painkillers and other medication to counteract the side effects of the painkillers for a leg injury he sustained in the Navy, King said.
One of the side effects is drowsiness. Still, no doctor ever told Szemkow not to drive, King said.