KAMEHAMEHA SCHOOLS:
PREFERENCE POLICY
FACING NEW CHALLENGE
4 challenge racial preference
An attorney for the plaintiffs believes this case could wind up in the U.S. Supreme Court
STORY SUMMARY | READ THE FULL STORY
Four non-Hawaiian students and their families filed a lawsuit in federal court yesterday seeking to overturn Kamehameha Schools' admission policy, which gives preference to native Hawaiian students.
The lawsuit is nearly identical to a court challenge filed in 2003 by a non-Hawaiian student known only as John Doe. That lawsuit was settled for $7 million last year after a panel of the 9th U.S. Circuit Court of Appeals upheld the policy, said attorney John Goemans.
Sacramento attorney Eric Grant, a key figure in both lawsuits, said he intends to take this case to the U.S. Supreme Court.
"This is something we've been expecting. We are certainly prepared to defend our policy," said Kekoa Paulsen, a spokesman for Kamehameha Schools.
Also yesterday, Kamehameha Schools filed suit in state court against John Doe and his mother, alleging they breached a confidentiality agreement when Goemans revealed the amount of the settlement.
Goemans said yesterday that Kamehameha Schools has no right to keep the settlement confidential.
The lawsuit seeks attorneys' fees and other, unspecified damages.
CRAIG GIMA
FULL STORY »
Kamehameha Schools is facing another challenge to its admissions policy favoring native Hawaiians with a lawsuit filed in federal court yesterday that could eventually be decided by the U.S. Supreme Court.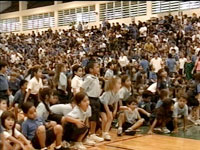 Kamehameha is back in court defending its admission policy, saying that it gives preference to Native Hawaiians.
The lawsuit was filed on behalf of four unidentified children and their families under the Civil Rights Act and seeks a "definitive ruling" that the "racially exclusionary admissions policy violates our nation's civil rights laws," according to a news release from Sacramento, Calif., attorney Eric Grant and Honolulu attorney David Rosen, who filed the lawsuit.
Kamehameha Schools spokesman Kekoa Paulsen said the school had been expecting the lawsuit and is "prepared to defend our policy."
"We operate entirely as a private organization, and our mission is to correct imbalances that were created years ago," Paulsen said. "We'd rather not be in court. We'd rather be doing what we need to do. We'd rather not have the distraction of having to argue this thing again and just go on with doing our business."
The lawsuit alleges that the four children, identified only as Jacob Doe, Jane Doe, Karl Doe and Lisa Doe, would have been admitted to a Kamehameha Schools campus this fall if they were of native Hawaiian ancestry.
The plaintiffs are seeking a judgment that the policy is "illegal and unenforceable," injunctions against implementing the policy for the upcoming school year, damages and attorneys fees.
The lawsuit is similar to a 2003 court case that was settled before it could reach the Supreme Court.
In that case, John Doe v. Kamehameha Schools, a panel of the 9th U.S. Circuit Court of Appeals ruled 8-7 in favor of Kamehameha Schools in December 2006.
The court found that the preference policy does not violate federal civil rights laws and has a legitimate purpose of addressing economic and educational imbalances suffered by native Hawaiians.
Rosen said he expects the case to work its way back to the 9th Circuit, where it can be appealed to the U.S. Supreme Court.
That process could take about two years, he said.
Paulsen said Kamehameha Schools has the 9th Circuit decision on its side, which also recognized that Congress has a special political relationship with native Hawaiians.
"They have a pretty steep hill to climb to prove otherwise," Paulsen said.
Grant filed the John Doe lawsuit and, when it was settled, said he was disappointed it did not go to the Supreme Court.
Rosen began soliciting potential clients for a new lawsuit shortly after the settlement in May 2007.
The four plaintiffs and their families were described as "representative of Hawaii" and "multi-ethnic, and of varying economic means" in a news release.
"The plaintiffs seek no special treatment -- only equal treatment, namely, the right to be considered for admission without regard to race or ancestry," the news release continued.
Jan Dill, a board member of Na Pua A Ke Ali'i Pauahi, an organization of Kamehameha Schools alumni, parents and students, said he trusts the schools' trustees to defend the policy and hopes it will finally be resolved.
"It (the lawsuit) is like poking at a healing wound in the community. It creates bitterness. It creates misunderstanding and we need to move forward," he said. "I think that's what the ohana wants. They want closure already."
Kamehameha Schools was founded by the 1883 will of Princess Bernice Pauahi Bishop and operates schools on Oahu, Maui and the Big Island and other educational programs. The three campuses enroll about 5,000 students and are subsidized by a $9 billion-plus trust. Only one in eight applicants is accepted into the schools.