While Richie Miao was busy establishing his career as a hairstylist and partner in CHOP Salon, he worried -- as only a sibling can -- that his younger brother Howard was wasting his life away.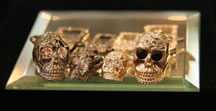 "All he did is surf," said Richie, who would have indulged his own passions for motorcycles and racing cars if only he could avoid growing up.
So when he heard Howard had turned his attention to jewelry, he thought it was just another phase and cause for concern. "I thought he was crazy."
More than a decade later, Richie has joined his brother at Maxi, the flagship Waikiki store that is home to their Hawaii-inspired jewelry line. Maxi is a hit in Japan, where its first international flagship boutique opened in Aoyama in 2005. The line can also be found in Takashimaya, Roppongi Hills and Barneys New York. They're eyeing China -- and just maybe, their own backyard -- for further expansion.
"Not too many local people know about us because no one wants to go to Waikiki," said Richie, who's more of a "whatever happens, happens" sort of guy than a self-promoter. I only found out about it after spotting him in one of his wallet chains, a natural conversation starter.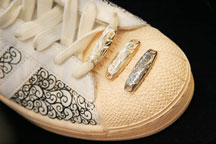 "A lot of stuff we do on our own, people don't buy. It's really the simple stuff that are best-sellers," he said.
Those simple pieces would include engraved crosses, hearts, fleur de lis, alphabet charms in old English lettering and nameplates in cursive lettering. Silver crosses start at about $50. They also offer shoe tags and golf markers in sterling silver.
Howard was a self-employed surf instructor who wore Victorian era-inspired Hawaiian gold-and-enamel jewelry on the waves and found a lot of interest in the jewelry among his Japanese students. He bought wholesale pieces and sold them casually, then became interested in making jewelry himself and started studying the art.
"I really got into it. I always liked jewelry," he said. He's since merged antique Hawaiian with a contemporary Gothic look. Although the brothers no longer make all the pieces, the engraving continues to be done by hand here and in Asia, including scrollwork on heavier chains.
These days, it makes sense to Richie that his brother settled in a creative niche. "He always drew really well, and when he started doing jewelry work he learned everything and taught me on the side. It was something that was never meant to be, but I'm having fun with it, I enjoy it," he said, adding, "I gotta keep up with him."
Richie eventually sold his stake in CHOP, although he continues to work there part time, to join his brother at his shop. A third brother, John, manages the books.
Prior to Maxi, Richie wasn't very interested in jewelry. Now, it's rare to see him wearing fewer than four of his own pieces at any one time. "It's interesting to see something start with a drawing and become reality, and to see people wearing the jewelry is gratifying," he said.
"It's the same when I see people from the salon walking around, like 'That's my haircut!' "
Maxi is at 413 Seaside Ave. (same complex as Scruples). Validated parking in the Waikiki Trade Center across the street. Call 922-2737.