---
HAWAII
Isle coupon book to debut
The
HonuGuide
, a coupon book that supports local, green businesses and organizations, will debut in December.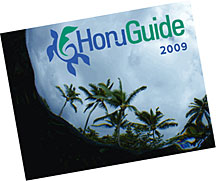 The discount book also offers resources for sustainable living in Hawaii and will serve as a green fundraising option for schools and groups, with $1 from every book sold to local nonprofits.
For more information, visit www.honuguide.com. Pre-sales will begin in October.
Hawaiian tops for on-time flights
Hawaiian Airlines
said yesterday it was the top airline out of 19 domestic carriers tracked by the U.S. Department of Transportation for on-time performance in June.
Hawaiian had 92.2 percent of its flights arrive on schedule, 21.4 percentage points better than the industry average of 70.8 percent.
The company ranked second for fewest canceled flights at 0.3 percent, representing 17 cancellations out of 5,301 total flights.
Hawaiian was third for fewest misplaced bags, with 3.73 mishandled baggage reports for every 1,000 passengers.
Oversales are reported quarterly, with Hawaiian finishing second for fewest passengers denied boarding at 0.09 percent for every 10,000 passengers.
SBA offers free help on Maui
The U.S. Small Business Administration will offer free, confidential consultations for Maui businesses to discuss the programs and services it offers.
SBA Business Development Specialist Kim Hite will team up with American Savings Bank to conduct a special "SBA Resource Day" at the ASB Branch on 73 Puunene Ave., in Kahului on Aug. 14 between 9 a.m. and 2 p.m.
Appointments are recommended by calling Hite at (808) 541-2990, ext. 212. Online registration is also available at www.sba.gov/hi.
Hoana expands Queen's contract
Hoana Medical Inc.
said yesterday that
Queen's Medical Center
will equip 100 additional hospital beds with its LifeBed systems, bringing the total number of LifeBeds at Queen's to 150.
LifeBeds track a patient's basic vital signs without any connection to the patient. If the patient is in trouble, the LifeBed alerts the nurse.
Phase 2 opens Washington office
Phase 2 International
, a Honolulu-based software company, said yesterday it opened an office in Spokane, Wash., on Monday. It is the company's second mainland office following an opening in Chicago.
Air Jamaica bypasses Banmiller
Former Aloha Airlines Chief Executive David Banmiller has been passed over for the top post at Air Jamaica in favor of industry veteran and former
Mesa Air Group
executive Edward Wegel, according to news reports out of that country.
Banmiller said yesterday he had been told last week that Air Jamaica "was heading in a different direction," but there has been no official announcement.
Wegel, a former vice president of corporate planning at Mesa, also has served as president and CEO of BWIA International Airways and was co-founder of Atlantic Coast Airlines.
"It was clear that there was a significant difference of opinion on key corporate governance issues and the authority level of the CEO," he said in a statement. "We were simply not aligned and my experience told me to stand by my position in order to attempt a successful turnaround."
Banmiller said he plans to talk to a number of people domestically and internationally before accepting his next position. He also said he wants to take some time off.
New hires / Promotions
» Group 70 International has announced the following promotions to associate:
* Mike Mau serves as the firm's network administrator and has more than six years of experience in computer technology.
* Ross Morishige has more than eight years of experience in design and project management, including serving as a project architect at Moore Ruble Yudell Architects and Planners in Santa Monica, Calif.
» The Hawaii Alliance of Nonprofit Organizations has named Lisa T. Maruyama as president and chief executive officer. She replaces John Flanagan, who will retire after serving the organization for six years. She was previously vice president for public affairs at Bright Light Marketing and executive director of the Pacific and Asia Affairs Council.
» Aqua Hotels & Resorts has announced the following promotions and new hire:
* LeeAnn Isobe to director of marketing from marketing manager. Her experience includes advertising manager for Aston Hotels & Resort and other management positions at CP Advertising and Ad Works.
* Amber Watt to director of internet strategy from eCommerce manager. She was previously traffic manager at Net@ddress and webmaster for its parent corporation USA.NET.
* Justin Nakaahiki as marketing content manager. He was previously operations manager at Success Advertising.
» First Hawaiian Bank has announced the following management promotions:
* Glenn T. Fukuda to vice president, controller's division, from assistant vice president. He joined the bank as a CPA and has 22 years of experience in the bank's controller's division.
* Bernadette K. Gaspar to vice president and centralized flooring operations manager, Hawaii dealer division. She joined the bank in 1988 as a flooring clerk.
* Brent E. Helgeson to senior vice president and deputy division manager. He has more than 18 years of experience at the bank.
* Cynthia M. Yamasaki as vice president, human resources division. Her 28 years of experience include Bank of Hawaii, Title Guaranty, GE Capital of Hawaii and Sp


---