NATIONAL FOOTBALL LEAGUE
Brennan leads 'Skins to a win in debut
CANTON, Ohio » A day after a couple of old Redskins were honored, a couple of new ones put a fitting capper on Hall of Fame weekend.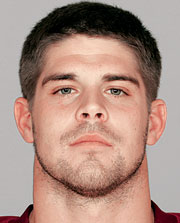 IMPRESSIVE DEBUT
Colt Brennan's numbers in his first game as a pro, a 30-16 win for his Redskins in the Hall of Fame Game
| | |
| --- | --- |
| Completions-Attempts | 9-10 |
| Passing yards | 123 |
| Touchdowns | 2 |
| Interceptions | 0 |
| Sacks | 1 |
| Passer rating | 157.5* |
* - The highest possible passer rating is 158.3.
Rookie Colt Brennan, a sixth-round pick out of Hawaii, threw two touchdown passes in the second half, leading new Washington coach Jim Zorn and the Redskins to a 30-16 victory over Indianapolis in last night's Hall of Fame Game.
Winning seemed like an appropriate tribute to two of the Redskins' most revered players, Art Monk and Darrell Green, who were inducted into the Hall of Fame along with former Kansas City cornerback and Redskins assistant coach Emmitt Thomas on Saturday. The other inductees were linebacker Andre Tippett, tackle Gary Zimmerman and defensive end Fred Dean.
"Taking my first snap, I went to the line, took a deep breath and thought to myself, 'Just have fun out here tonight,' " Brennan said. "And I had a lot of fun."
So did the huge contingent of Washington fans who turned Fawcett Stadium into a makeshift version of FedEx Field.
The debuts of Zorn and Brennan produced exactly what the Redskins had hoped for - even if it was a meaningless preseason game.
Zorn, who replaced retired Hall of Fame coach Joe Gibbs, wanted to use the league's preseason opener to get in sync with his coaches and players. He did better than that. His team scored the final 21 points.
And Brennan, the former Heisman Trophy finalist, was nearly flawless. He was 9-for-10 for 123 yards with two touchdowns and a near perfect quarterback rating of 157.5.
"More than his throws, what I was pleased with is how he was looking to the right guy when he was backpedaling," said Zorn, a former NFL quarterback. "He knew the plays, knew the routes. He should feel very good about his performance."
Indy played without seven starters, including injured two-time league MVP Peyton Manning, 2007 defensive player of the year Bob Sanders, former league sacks champion Dwight Freeney and record-setting receiver Marvin Harrison. They also lost Pro Bowl running back Joseph Addai with a head injury after their second offensive play.
Coach Tony Dungy pulled the rest of his starters after one series. Jim Sorgi, who replaced Manning, was 7-for-10 for 66 yards before leaving after Indy's 16-play opening drive.
Brennan started the third quarter for Washington and eight plays later hooked up with Maurice Mann on a 20-yard TD pass to tie the score at 16. On the next series, Brennan took the Redskins 88 yards and scrambled around long enough to thread a 5-yard touchdown pass to Marcus Mason, making it 23-16 with 10:22 to go.
McGahee might miss game
WESTMINSTER, Md. » Baltimore Ravens running back Willis McGahee might miss Thursday's preseason opener against the New England Patriots because of an ailing left knee,
"Right now, we need to get the fluid out of his knee and get that thing settled down a little bit," Ravens coach John Harbaugh said yesterday.
Rookie Ray Rice could get the start in his NFL debut because of the injury to McGahee.
Tight end Todd Heap also missed practice with a right calf injury, which is not believed to be serious.
T.O. gets a break
OXNARD, Calif. » Terrell Owens took it easy at Dallas Cowboys training camp yesterday, getting a day off from practice along with tight end Jason Witten and linebacker Zach Thomas.
All three players were on the field, but were in shorts and only spectators for the lone workout of the day. It was the Cowboys' 10th consecutive day of practices since opening camp, and came after back-to-back two-a-days when the team went later than scheduled both days.
Since the Cowboys aren't scheduled to be off until Sunday, coach Wade Phillips is planning to periodically giving some veteran players time off. He also did that in his first Cowboys camp last year.
Pro Bowl left tackle Flozell Adams and guard Marc Colombo got a break from the team's morning workout Saturday, but were back on the field for that afternoon session.