Police arrest suspect in deadly hit-and-run
Honolulu police said a tip led to the arrest of a 37-year-old Waialua man in connection with the hit-and-run accident that killed David Wayne Aldridge II last month.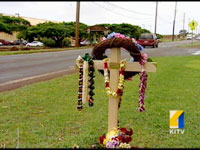 A 37 year old man is in police custody in connection with a hit and run that left an 18 year old man dead.
The suspect was identified as Arnel Abuluyan. Police arrested him at his Oliana Street home at 2:30 p.m. Saturday on suspicion of negligent homicide and failing to render aid, said Honolulu police Maj. Frank Fujii.
Police also seized a white 2006 GMC Savana van from a Waipio-area auto body shop in connection with the case, he said.
The arrest came on the same day Aldridge's family buried him in a memorial service in his hometown, Jeffersonville, Ind. Last week his father, Army Staff Sgt. David Aldridge, made a plea through local media for the driver to turn himself in.
"We're very happy that we're going to hopefully get closure," Aldridge said. "I'm disappointed he never turned himself in. The police had to take him out of his house and arrest him. I hope that the publicity we had through the media helped in somebody's conscience in giving that tip. We appreciate it very much."
Fujii said the tip gave police enough information to make an arrest, but did not have further details.
He declined to say where the van came from but said it is not privately owned and was used for business purposes.
Neighbors said the suspect, who does not have a criminal record in Hawaii, lives there with his elderly mother and sister and drives a white van.
"It's not too shocking to hear that there was an accident near the Dole Plantation, because there are so many accidents there," said Stephanie Rego, 29, who lives not far from the suspect. "It is shocking to know that it could be one of my neighbors responsible for the accident and who just drove away."
According to another neighbor, Priscilla Fisher, the man always kept to himself.
"He never did really mingle outside," said Fisher, 66. "If he was home he'd be in the house."
Fisher said the man's mother is in the hospital, and another sister is visiting from the mainland but is leaving soon.
The suspect works as an installer for Abbey Carpet & Floor of Hawaii, which is based in Aiea, according to a manager who declined to give her full name. The manager did not know how long he had been with the company.
She also added that there was a police report filed on the day of the accident but declined to give more details. Police could not give more information on that report yesterday.
Aldridge, who worked at Burger King at Schofield Barracks, was riding his bicycle toward his home at Helemano Military Reservation on July 22.
At about 1:35 a.m. he was hit from behind by a vehicle fronting Dole Plantation near Wahiawa. The vehicle continued toward the North Shore without stopping, police said.
Police initially said they were looking for a red flatbed truck suspected of hitting the 18-year-old Leilehua High School graduate.
Fujii said earlier witness accounts might have been affected by conditions surrounding the accident, such as the weather or time of day.
"We always say that we receive information, but we never narrow the scope of the investigation," he said. "Our investigators always keep an open mind."
The van had damage consistent with the accident they were investigating, he said.
Friends and acquaintances created a memorial for Aldridge on the site of the accident. Mark Reyes, 16, one of Aldridge's former classmates at Leilehua, stopped by the memorial with his family yesterday afternoon.
"We were happy that the police arrested the driver," said Reyes' mother, Christine Reyes-Ni, who lives at Schofield Barracks. "David's death affected everyone, the students and the military. It's within the military so they're like family to us."
Aldridge's family, including his stepmother and 3-year-old sister, will stay in Indiana for another two or three weeks before returning to Hawaii.
"We wanted to change residences because we have to go by the accident scene every day," his father said.
"I'm still under the military and under orders. I'm not like a civilian where I can just pick up and go whenever I want. It's painful to drive by there every day."