| | |
| --- | --- |
| | Newswatch |
---
Shrimp study gets $2.3M grant
The Waimanalo-based Oceanic Institute, an affiliate of Hawaii Pacific University, has received a federal grant of nearly $2.3 million to conduct shrimp aquaculture research.
"Shrimp is the No. 1 consumed seafood product in the United States at 1.4 billion pounds annually," said U.S. Sen. Daniel Inouye. "But a robust shrimp farming industry does not exist in our nation. This grant from the Department of Agriculture is an opportunity for Hawaii and the Oceanic Institute to take a leading role in the creation of an American shrimp farming industry," he added.
The research will include finding sustainable high-yield production and breeding techniques.
This shrimp grant was part of a package of 17 grants from the U.S. Departments of Agriculture and Commerce totaling more than $5.5 million that were awarded to Hawaii during the last two weeks of July. Other grant beneficiaries included the University of Hawaii, Hawaii Department of Land and Natural Resources, the High Technology Development Corp. and Pacmar Inc.
Raises given to top UH executives
University of Hawaii President David McClain and 33 other top UH administrators got raises under a proposal approved by the Board of Regents last week.
McClain's salary is now $414,096 a year, retroactive to July 1, a $21,696 raise or a 5.5 percent increase from last year's base salary of $392,400.
Regents rated McClain's job performance as "outstanding" during his annual evaluation.
Other executives got a $6,000 raise, plus a 2 percent increase if their job performance was rated as "superior" or 4 percent for "outstanding."
The regents also named Peter Quigley as interim vice chancellor for academic affairs at UH-Manoa at a salary of $211,956.
UH faculty will get an 11 percent raise this year. The average salary of a UH-Manoa professor will be $113,384; the average professor's salary across the 10-campus system will be $77,648.
Tuition at the state's flagship UH-Manoa campus is also going up 16 percent this fall, in part to pay for faculty salaries. Resident tuition and fees for an undergraduate student at UH-Manoa are now $6,258.40 for the academic year.
Classes look at suicide prevention
The Hawaii Department of Health is conducting suicide prevention workshops to help reduce a frightening statistic: Suicide is Hawaii's second leading cause of death, with more than 120 dead and 860 hospitalized after failed attempts each year.
The two-day suicide prevention training, called Applied Suicide Intervention Skills Training (ASIST), prepares individuals to recognize and respond to those in crisis. Teachers, social workers, clergy, law enforcement, health workers and people concerned about friends and family members are encouraged to attend.
The workshops will be held on the following days:
» Maui, Aug. 22-23
» Molokai, Sept. 11-12
» Kauai, Sept. 25-26
» Oahu, Aug. 28-29, Oct. 23-24, Dec. 4-5
» Big Island, Nov. 6-7
Participants must register and pay in advance and commit two full days (7:30 a.m. to 4:30 p.m.) for the workshops. For further information call 733-9238 or 733-9320 or visit www.hawaii.gov/health and look under the health events section.
| | |
| --- | --- |
| | Police, Fire, Courts |
---
2 girls accused of kidnapping baby
Police are looking for two teenage girls who allegedly pushed their way into a Kapahulu apartment yesterday and kidnapped a 1-year-old boy.
The mother of the boy later called 911 and said she had her child with her, according to police.
Police said that around 11:30 a.m., two girls around 16-to-18-years-old, knocked on the door to an apartment and told a 10-year-old girl that they were there to pick up the boy.
One of the girls allegedly pushed her way into the apartment and knocked down the 10-year-old. The other girl allegedly grabbed the baby's bag and then both suspects left the apartment.
Police classified the case as first-degree burglary and kidnapping.
Police declined this morning to give more details on the incident.
NORTH SHORE
Stranded hikers phone for rescue
A fire helicopter plucked two visitors off the face of a cliff near Dillingham Airfield yesterday after they hiked up and could not get back down, a Honolulu fire spokesman said.
The two men in their 20s called for help at about 2:35 p.m., said Honolulu Fire Department Capt. Terry Seelig.
"They weren't on a trail," Seelig said. They "just decided to try to climb up the side of the mountain."
He said the hikers ran into trouble when rain made the rocks slippery and their descent perilous. A helicopter picked up the men, one at a time, off a rock ledge at about 3:35 p.m., Seelig said.
Neither was injured.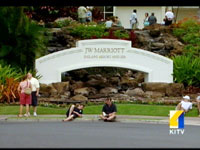 Guests and staff of the Marriott Ihilani Resort and Spa were about to grapb a bite to eat when the sudden appearance of smoke changed thier plans.
HONOLULU
Fire forces evacuation of Ihilani Marriott
About 375 people were evacuated from the Ihilani Marriott hotel today after a fire started in a restaurant ventilation system.
The fire began about 5:20 p.m. in the ventilation ducts of a ground-floor restaurant, Azul.
About 35 firefighters fought the two-alarm blaze, spraying water from the roof into the ventilation system. The fire was extinguished at 5:57 p.m.
The guests were allowed back into the lobby about 6:45.
Drive-by thief robs victim of her purse
A woman walking home in Makiki early yesterday was held up by a man with a gun, police said.
Police said the woman, 21, reported a black two-door imported car drove up next to her at about 12:50 a.m. A passenger got out the car, brandished a handgun and demanded her purse, police said.
The man then fled in the vehicle.
Kalihi woman missing for days
Police need help in locating a 20-year-old woman missing since Tuesday.
Moria Montel was last seen at her Huli Street home in Kalihi. Police said Montel is mentally challenged and needs daily medication for seizures.
She is described as 4 feet 11 inches tall, about 145 pounds, with black hair and black eyes. She was last seen wearing a T-shirt of unknown color and blue denim long pants.
Police said she has a prosthetic left foot and walks with a limp. Anyone with information is asked to call CrimeStoppers at 955-8300 or *CRIME on a cell phone.