| | |
| --- | --- |
| | Wood Craft |
---
Guest has server on the go, dining at Lanai City Grill
AT Lanai City Grill, a man recently requested a rib-eye steak with no fat. Server
Delia Divine
gave the order to chef
Mike Charles
, who said, "Huh? All rib eyes have fat. He must want a filet mignon." Delia goes back to table 21 and repeats the filet suggestion to the man, who then orders two filets. She soon delivers the two filets with trimmings of sweet potato polenta and grilled asparagus, thinking all is fine. But the man rejected the dish, saying he did not order the trimmings. So Delia takes the dish back, the trimmings are removed and two new filets are placed before
Ozzy Osbourne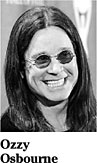 . The Englishman, who gained fame as a founder and lead singer of the heavy metal group
Black Sabbath
and for his TV show "The Osbournes," becomes a happy camper and thanks everyone for a great meal. Oh yeah, Ozzy has also made headlines for unusual behavior ... Bali by the Sea veteran
Chris Nago
served CNN founder
Ted Turner
recently when he came in for dinner with a party of 28 people involved in his foundation ... Former Oakland and Denver linebacker
Bill Romanowski
and wife
Julie
dined with
Randy Schoch
at Randy's Ruth's Chris Waikiki ...
Cameraman Dean Sensui of "Hawaii Goes Fishing" was aboard the Marlin Magic II off the Kona Coast when that big 973-pound marlin was caught Tuesday by Robert Dudley, captain of California's Laguna Niguel team, in the Hawaiian International Billfish Tournament. The action will be shown on an upcoming "Hawaii Goes Fishing" show. Magic Marlin II is captained by Marlin Parker. Marlin is his real name. The big fish was the second largest ever caught in the tournament, now in its 49th year. In 1986 the Laguna Niguel team caught the biggest, a 1,062.5-pounder ...
PONO KOBYLANSKI WINS MR. PHILIPPINES USA
The annual Ginoog Pilipinas USA (Mr. Philippines USA) was won by Hawaii model
Kapono "Pono" Kobylanski
July 20 at the Radisson Hotel in Los Angeles. Pono is a handsome blend of Filipino, Hawaiian and Polish, with bits of Irish, Scottish, Portuguese, Chinese and Spanish tossed in. When he's not on the runways, he works as a financial analyst ... Hawaii Opera Theatre's production of "A Little Night Music" opened last night at Blaisdell Concert Hall. It plays tomorrow at 4 p.m. and repeats next weekend ...
Ben Wood
, who sold the Star-Bulletin in the streets of downtown Honolulu during World War II, writes of people, places and things in our Hawaii. E-mail him at
bwood@starbulletin.com