---
FAST FACTS HAWAII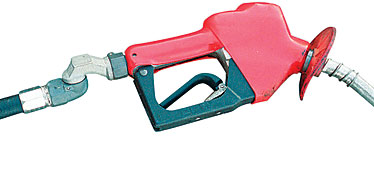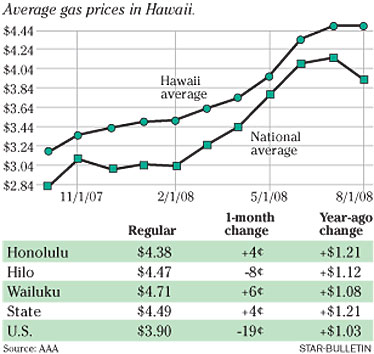 ---
HAWAII
Hilo sees gas price relief
Isle gas prices continued to edge up this past week, while the national average fell 19 cents to $3.90, the AAA reported yesterday.
Hawaii's average for a gallon of regular unleaded was $4.49, up 4 cents from one month ago and $1.21 from last year.
Hilo was the only isle metro area to see a drop, with prices falling 8 cents to $4.47 from last month, but rising $1.12 from last year.
Honolulu's prices rose an average of 4 cents to $4.38 from last month and $1.21 from a year ago, while Wailuku prices rose 6 cents to $4.71, a $1.08 jump from last year.
Brewers gathering hits Hawaii
An international group of brewers will be attending the 2008 World Brewing Congress at the Hawaii Convention Center from today through Wednesday.
The event will bring together a community of brewers to discuss product advances, state-of-the art technologies, and the latest research results.
This year's event is expected to draw 1,000 participants. Statewide spending is projected to be more than $4.7 million, generating more than $458,000 in statewide tax revenue.
NATION
Boyd Gaming delays Vegas project
LAS VEGAS » Shares of
Boyd Gaming Corp.
, the owner of 16 U.S. casinos, rose the most in almost 10 years yesterday after saying it will delay construction of its $4 billion Echelon resort development in Las Vegas.
The casino company said yesterday that the slowing U.S. economy and rising cost of credit prompted it to put off the project for three or four quarters.
Citigroup faces charges and probe
NEW YORK » New York Attorney General Andrew Cuomo said he is prepared to charge
Citigroup Inc.
with fraudulent sales of auction-rate securities and with the destruction of key documents.
Cuomo joins the Securities and Exchange Commission and other regulators in examining Citigroup's sale of auction-rate securities. They believe the instruments were being aggressively marketed despite a rapid weakening in trading.
WORLD
Oil prices hit British Airways
LONDON >>
British Airways PLC
reported a huge fall in its first-quarter earnings yesterday, as chief executive Willie Walsh said a combination of soaring oil prices and a global economic slowdown presented "the worst trading environment the industry has ever faced."
BA also announced cuts to its winter flight schedule in a bid to rein in spending in the tough trading climate - cuts that led the carrier to trim its full-year forecast for revenue growth to 3 percent, instead of 4 percent.
BA said that its pretax profit in the three months to June 30 was 37 million pounds ($73 million) - an 88 percent plunge from the 298 million pounds it earned in the same period a year ago.
---