111 state employees to test out workweek of 4 days
The three-month pilot for Human Resources Development workers begins on Monday
When government worker Valerie Pacheco flies off for a weekend visit with her three grandchildren on Maui, she'll have more time because of the state's pilot project for a four-day workweek that starts Monday.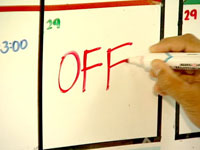 Human Resource employees will start the pilot project on Monday.
"I'm delighted with it," said Pacheco, an administrator in the Department of Human Resources Development, noting that the extended hours on her four work days also means she avoids rush-hour traffic.
Lt. Gov. James Aiona announced yesterday that the state is testing a four-day workweek at the Department of Human Resources Development. He said the state hopes to expand the project to the more than 17,000 executive branch employees. The state has about 51,000 workers.
Under the three-month pilot project, ending Oct. 31, the department's 111 employees will work 10 hours a day instead of eight and take Fridays off.
Human Resources Development, the state's smallest department and the central personnel office that accepts applications for state jobs, will be open from 7:15 a.m. to 6 p.m. (including a 45-minute break for employees) and will be closed on Fridays.
Aiona said the state is trying a four-day workweek to decrease the state's energy usage, improve the employees' quality of life, ease traffic congestion, aid recruitment and maintain or improve customer service.
If the project were expanded to 17,000 executive branch employees, hundreds of thousands of dollars could be saved in energy costs each month, he said.
Marie Laderta, director of the department under the study, said improving public service will be the biggest challenge in switching to a four-day workweek.
She said public service will be improved through extended daytime hours, giving applicants more time at the end of the day to drop off applications. Applications are also accepted seven days a week online at www.hawaii.gov/hrd/main/esd.
The state chose her department for the test project because it is not unionized, she said, adding that the state will negotiate with unions when that issue arises for other agencies.
Comments were solicited from employees before making the change, and 27 of them expressed concerns with bus schedules, elderly care or child care, she said.
Some were given options, such as working from home.
During weeks with holidays, employees will work 32 hours a week in three days.
The state will closely monitor the project to determine how much energy can be saved and whether employees enjoy the change, Laderta said.
City spokesman Bill Brennan said the city is also looking into the possibility of a four-day workweek. The city employs about 8,700.