Cirque's 'Saltimbanco' to have limited isle run
The acrobatic circus lights up the Blaisdell starting in October
Cirque du Soleil, born of a dream that creator-founder Guy Laliberte had on a Hawaii beach in the 1980s, returns to its location of inspiration this fall.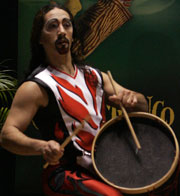 Cirque du Soleil: Saltimbanco
» Dates: Oct. 30 through Nov. 16
» Place: Blaisdell Arena
» Show times: 7:30 p.m. Tuesdays to Thursdays; 3:30 and 7:30 p.m. Fridays and Saturdays; 1 and 5 p.m. Sundays
» Tickets: $40 to $95 now on sale to Cirque Club members (membership is free) at cirquedusoleil.com. Sales to public start at 10 a.m. Monday at the Blaisdell box office and Ticketmaster outlets. Charge-by-phone at (877) 750-4400 or visit ticketmaster.com.
» Call: 591-2211

At a press conference at the Blaisdell Arena yesterday, Cirque's creative director, Carmen Ruest, announced that Cirque du Soleil's longest-running extravaganza, "Saltimbanco," will play a limited run at the arena, Oct. 30 through Nov. 16.
Mayor Mufi Hannemann said Cirque exemplifies the sort of "world-class acts" that have come to Honolulu in recent years.
The acrobatic circus follows "Disney's The Lion King," which played 13 weeks at the Blaisdell Concert Hall last year.
Originating as a big-tent show usually held in parking lots, "Saltimbanco" has been reconfigured for arenas. The colorful show has toured internationally for 14 years, playing 75 cities on five continents before a combined audience of 10 million.
"Saltimbanco" comprises nine acts, including major showcases of Chinese pole acrobatics, aerial work from a Russian swing, and bungees. It features 47 performers from more than 20 countries.
Ruest said Laliberte drew his original inspiration from his visit to Hawaii. "When Guy saw the Hawaiian sun, he saw the energy and youth of the circus he wanted to do," she said.
During the press conference, Ruest and two of the show's performers, Adriana Pegueroles and Eduardo Rodriguez, provided a taste of what the show will provide. After a couple of video presentations to whet the appetite, Pegueroles and Rodriguez, in full costume and makeup, gave a smaller-scale version of their boleadoras act, which will end the show's first half.
Demonstrating a vibrant dance from their home country of Argentina, the act has them adeptly twirling weighted cords originally used by hunters in the pampas. The duo snappily bounced the weights off the platform stage in syncopated time and the arena echoed with the sharp crack of the weights in counterpoint to their boot-heel dancing.
"I've been with Cirque since 2000," Pegueroles said afterward. "They called me because they knew I danced with the boleadoras, which is a folkloric dance traditionally done by men. I initially signed on with Cirque for nine months, and I've been with them ever since.
"All the touring is intense, but it makes for a nice life, because we know we have a job to do every day."