Ex-City Bank chief tapped to lead CPB
Migita will become Central Pacific's first Hawaii-born CEO
»
Central Pacific Bank loses $146.3 million
STORY SUMMARY »
Ronald Migita, the former City Bank chief executive who lost his position following rival Central Pacific Bank's $458.6 million takeover, was named yesterday to replace retiring Central Pacific CEO Clint Arnoldus.
Migita, 67, who had been Central Pacific's non-executive chairman, took over today.
One of his biggest challenges will be to review the bank's exposure to the California residential construction market, which yesterday resulted in the bank posting a $146.3 million second-quarter loss and slashing its dividend 60 percent.
---
FULL STORY »
Four months ago,
Central Pacific Bank
's Ronald Migita said he wasn't a candidate for the chief executive position that was due to become vacant later this year with the pending retirement of Chief Executive Clint Arnoldus.
THE STATS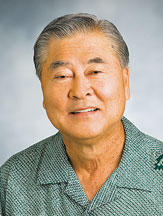 Age: 67 Born: Wailuku, Maui

Titles: Chairman, president and chief executive of Central Pacific Financial Corp. and Central Pacific Bank

Education: University of Hawaii, bachelor's degree, business administration; Pacific Coast Banking School at the University of Washington; University of Hawaii Advanced Management Program

Experience: Non-executive chairman, Central Pacific Financial and Central Pacific Bank (Sept. 2004-present); chairman, City Bank (Sept. 2004-Feb. 2005); director, CEO and president, bank holding company CB Bancshares Inc. (1997-Sept. 2004); vice chairman and CEO, City Bank (1997-Sept. 2004); various positions, including executive vice president, Bank of Hawaii (1966-1995)
But then, the 67-year-old Migita jokingly said yesterday, the board caught him "in a weak moment."
"I was not a candidate," he said. "However, the board felt that I was the right person for this job."
So, in an twist of fate, Migita, the former City Bank CEO who lost his job when the bank was acquired in 2004 by Arnoldus-led Central Pacific, is again back in charge. Starting today, he takes over as CEO and president of what is now a merged bank with nearly 1,000 employees -- about twice the size of the bank that Migita oversaw.
Migita, who will remain as chairman of Central Pacific, will get a base salary of $1 a year, with the rest of his compensation package to be finalized. Arnoldus, 61, who has six children and 14 grandchildren, will leave for Carefree, Ariz., early next year with a previously approved $5 million package that will include his salary, bonus, relocation expenses and retirement benefits.
"It will be a very orderly transition," Arnoldus said. "Ron has been our (non-executive) chairman and has been very intimately involved with our bank."
But as non-executive chairman, Migita hasn't been involved in management issues for four years and said yesterday that he'll come in today "with a real open mind and I'll look at all of our core businesses."
Of utmost importance is the bank's exposure to the California residential construction market, which yesterday resulted in the state's fourth-largest bank reporting a $146.3 million loss that included a $94.3 goodwill impairment charge associated with its buyout of rival City Bank. In addition, the bank, which has been aggressively reducing that exposure, slashed its quarterly dividend 60 percent.
Migita said it would be premature to say what additional steps the bank might do regarding its California exposure. However, he did note that City Bank's commitment to California real estate, such as lines of credits, loans to developers and loans to contracts, was $416 million at City Bank as of Dec. 30, 2004, and under Arnoldus expanded to $1.1 billion as of June 30 of this year.
Analyst Brett Rabatin, who covers Central Pacific for FTN MidWest Research, said Arnoldus' legacy may rest with his expansion in California.
"I think Clint made some moves in the right directions, but unfortunately he'll go down as the martyr for what happened with the California loan portfolio," Rabatin said.
Migita, who initially wasn't offered a position when Central Pacific attempted a hostile takeover of City Bank in 2003, eventually was chosen as non-executive chairman as one of Central Pacific's concessions to pave the way for its $458.6 million acquisition the following year.
That merger, which sparked a war of words in the public and in the courtroom, eventually resulted in a friendly takeover after Central Pacific sweetened its bid several times.
But not before Migita verbally attacked Arnoldus in April 2003 when Arnoldus tried to engineer the hostile takeover by replacing City Bank's top executives, including Migita. At the time, Migita criticized the Salt Lake City-born Arnoldus' takeover tactics, saying "this is not how we do business in Hawaii."
Migita, who has more than 40 years of banking experience, will become Central Pacific's first Hawaii-born CEO.
Crystal Rose, chairwoman of the board's search committee, said the bank conducted a four-month national search and decided Migita was "the right leader for the job at the right time."
"We selected Ron because he brings more than 40 years of banking experience to the table, has an in-depth understanding of the Hawaii market, and knows Central Pacific Bank's customers, employees and shareholders."