Water facility not county's obligation
WAILUKU » The state Attorney General's Office said Maui County does not have to take over Molokai Ranch's water and sewage system when the firm shuts down Aug. 31.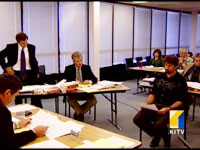 Molokai Properties want to discontinue water and sewage services for Molokai in September and Governor Lingle says its not the state's problem but the county's problem.
Deputy Attorney General Edward Bohlen said state health officials are asking the county to prepare an emergency response plan in the event of the shutdown, and did not intend for the county to take over the system.
Bohlen's statement came yesterday during a meeting between ranch representatives, the county and the state about the shutdown of water and wastewater service to about 1,200 customers in west Molokai.
The meeting among the three groups continues this morning on Oahu.
Maui County Mayor Charmaine Tavares has argued that taking over private water and sewage facilities, such as the one on Molokai, can set a dangerous precedent.
County spokeswoman Mahina Martin said the county was pleased at the state's latest announcement and for Bohlen's clarification.
Martin said the county is willing to develop an emergency response plan.
She said the county is waiting to see what Molokai Ranch's response will be to the state's request for it to continue operating for 90 days past the planned August shutdown.
Martin said the 90-day period would allow the ranch facilities to be looked at more carefully.
The ranch, which owns about a third of the land on Molokai, notified the state Public Utilities Commission in a May 30 letter about the shutdown, following its decision to virtually halt its business operations on Molokai in April.