---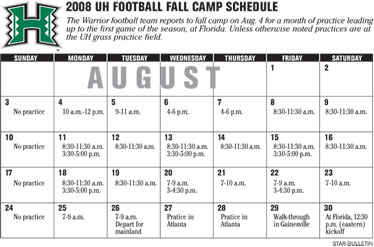 Maka petition doubtful
Barring the unexpected, Hawaii coach
Greg McMackin
isn't planning on opening fall camp Monday with defensive end
Francis Maka
among the 105 Warriors preparing for the 2008 season.
Maka, a backup who was in on 17 tackles in eight games last year, petitioned the NCAA for a sixth season of eligibility due to an injury suffered as a freshman at Arizona.
McMackin was not optimistic when asked about Maka's status yesterday.
"I don't think the NCAA is going to give him another year. We haven't got any reports and his is one of those things that's very difficult to document," McMackin said. "He's not on our roster right now. He tried. He's a great person, and I feel bad about it."
Meanwhile, Kainoa LaCount's status is still pending.
The highly regarded offensive tackle won't be able to report to camp until at least a few days into it because his last final at College of the Canyons (Calif.) is Aug. 7.
UH will likely keep a camp spot open for him, but LaCount could end up redshirting if he doesn't get up to speed quickly.
"I don't mind if I have to. It's another year to get bigger, faster and stronger," said the 6-foot-7, 290-pound Kailua High graduate. "It might be the best thing."
Season Tickets Update
Season ticket purchases have gone up for the second year in a row as UH's sales campaign continues.
The latest exact number sold (from July 18) is 24,164.
"We're definitely exceeding last year's figure," associate athletic director John McNamara said.
UH sold 22,975 season-ticket packages last year, ending five consecutive years of declining sales.
Fans have until Friday to take advantage of a promotion that includes a $99 price for all five pay-per-view road game telecasts with the purchase of a season-ticket package. The road games would be $280 if bought separately.
UH also expects to sell more than 1,000 tickets to students. They can buy them online for the first time via the Hawaiiathletics.com Website.
Clapp Considered
UH associate athletic director
Carl Clapp
has interviewed for the athletic director's post at UC Santa Barbara. He is among three finalists.
"It's my alma mater and Santa Barbara is my hometown," Clapp said. "I have a fondness for it and I'm flattered they're interested in me. On the other hand I really enjoy my job here."
Clapp said he does not know of a timetable for the job to be filled.
Talk Story
Elected officials from Aiea and Pearl City are hosting a town meeting tonight with McMackin and UH athletic director
Jim Donovan
. The session is at the Waimalu Elementary School cafeteria from 7 to 8:30 p.m.