Suspect caught after fatal stabbing
An Ewa Beach man died last night after being stabbed in a family argument at his home.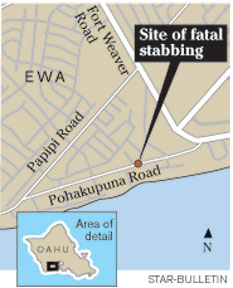 Police said the victim, identified as 65-year-old Adolfo Alonso Jr., was stabbed multiple times at about 6 p.m. outside his home at 91-693 Pohakupuna Road.
He was taken by ambulance to Hawaii Medical Center-West, where he was pronounced dead. A 59-year-old man was arrested about two blocks away by a patrol officer. Police also recovered a knife.
Neighbors said the suspect was the victim's brother-in-law. Police said the men were related and that both were residents of the home.
One neighbor, who refused to be identified, said her daughter witnessed the stabbing. The victim's son came to his father's aid as the suspect walked away, the neighbor said.
Police said the incident started as an argument between the suspect and Alonso. After the stabbing the suspect threatened a 29-year-old man at the home with the same knife before fleeing, police said.
A police spokesman said the death is the 13th homicide on Oahu in 2008, and the eighth related to domestic violence.