| | |
| --- | --- |
| | Wood Craft |
---
Willie K is a powerhouse in show at Roosevelt High
Willie K
let it all hang out Friday and Saturday nights to win standing ovations for his solo performances opening the renovated Roosevelt High School auditorium. The shows, sponsored by
Donna Walden
and her husband,
Brian Sakamaki
, netted at least $40,000 through ticket sales and donations for Roosevelt's music, art and athletic departments. Donna is the mom of RHS 2008 graduate
Corbin Dang
.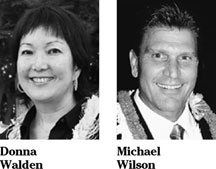 Many RHS graduates and other donors who made the renovation of the auditorium and the school's stadium possible were guests at an outdoor reception fronting the auditorium Friday. The auditorium renovation cost $14 million. Donna considers Willie a Hawaiian treasure and she is right. The 700-seat auditorium is a gem and Willie said he was truly happy to perform at the opening because the facility is for the kids. His show ran nearly two hours and he made use of every minute. Performing with his guitar, he sang Hawaiian, hapa-haole, slack-key, jazz, country, pop and rock hits, and even a little opera. He included kachi kachi, Japanese, Chinese, vaquero and Israeli numbers and impersonated stars of yesteryear and today. His comedy, facial expressions and masculine comic hula were hilarious. The guy's amazing. He enjoyed talking about his boyhood when school teachers told him that he and his ukulele would never amount to anything. That is really laughable.
Augie Tulba
opened the show and his stories about growing up poor were a riot ...
Local boy Michael Wilson, a 1976 Punahou graduate, is the new general manager of Morton's. A reception was held for him Monday at the steak house. David Martin, a former Morton's G.M. here, is now regional director of operations for the chain and attended the party. Michael's dad is 1945 Roosevelt grad Harvey Herbert Wilson, a former hard-running fullback on the RHS football team ...
KAKESAKO TEAM TO OPEN MARGIE'S JEWELERS
Margie Nishimura
,
Robin Imamura, Eden Pedriquez
and
Glen Cantino
, formerly of Kakesako Jewelers, will open Margie's Jewelers on 8-8-08 in Suite 115 on the ground floor of Pioneer Plaza on Fort Street Mall. Former Kakesako customers will be happy about Margie's opening as the store will continue the same tradition of friendly service and reasonable prices set by Kakesako, which shut down June 30 after 58 years. Margie said they will have the same watch repair service Kakesako had before it closed. Call 585-9061. The late
Tommy Kakesako
"is with us in spirit," Margie said ...
Ben Wood
, who sold the Star-Bulletin in the streets of downtown Honolulu during World War II, writes of people, places and things in our Hawaii. E-mail him at
bwood@starbulletin.com