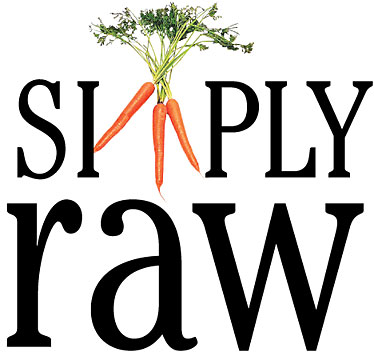 A book by a Kauai couple can't properly be calleda "cookbook," but it does contain recipes
"The Complete Idiot's Guide to Eating Raw"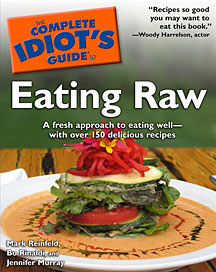 By Mark Reinfeld, Bo Rinaldi and Jennifer Murray
(Penguin Group, $16.95); available at Borders, Barnes & Noble and Amazon.com
The notion of raw food once conjured as much glamour and appeal as feeding one's furry pet. Healthy? Check. Simple? Sure, if you need to maintain a body weight of, say, 12 pounds. Tasty? The jury might deliberate for days on that one. Even the "Sex and the City" series portrayed a raw-food restaurant as a place to endure the cuisine in an effort to meet hot waiters.
Mark Reinfeld, Bo Rinaldi and Jennifer Murray intend to change that perception with their new book, "The Complete Idiot's Guide to Eating Raw."
"There's a growing interest in the benefits of eating raw foods, and it's a growing movement in the culinary world," said co-author Mark Reinfeld, who also co-owns the Blossoming Lotus Restaurant on Kauai and is an author of the award-winning "Vegan World Fusion Cuisine" cookbook. "Raw restaurants are opening up (around the country) all the time, and it's been one of our specialties for years."
Generally, raw means food in its whole, natural state. Advocates believe that 115 degrees is the point at which food enzymes are destroyed. Sometimes heat is involved in preparation, but dehydration is the preferred method for creating pie crusts, cookies, pizza crusts and crackers. Contrary to popular belief, the multitude of choices indicate there's much more to raw cuisine than twigs and berries.
"The main thing is we wanted to show how incredibly diverse raw foods can be," said Reinfeld.
Though anecdotal studies promote a raw diet as way of conquering serious disease, Reinfeld advocates a more understated approach. "Nearly all major health organizations recommend including more fruits and vegetables, and this is a way to meet those requirements and put a gourmet flair to it."
Indeed, well over 100 pages of the book contain recipes. Largely created and compiled by Jennifer Murray, Reinfeld's wife and partner in their restaurant, some are simpler than others. Many call for ingredients best found at health food stores.
The idea for the book began when their previous cookbook started winning national awards, and Reinfeld was asked to write a manuscript for the "Idiot's Guide" series.
"I thought it was great because the 'Idiot's Guide' has a wide reach into the mainstream population," he said. "So it was an opportunity for us to capture the essence of the raw-food movement and introduce it to a wider audience."
Key components of the paperback book include "Tasteful Tips" and "Healing Foods," with ideas about extending the life of your blender, for instance, or the benefits of diluting juices. The authors also attack myths associated with eating raw - such as the common belief that our diets should contain a huge percentage of protein. Reinfeld says protein should comprise only 5 percent to 10 percent of daily calories, an allotment that can be achieved with fruits, vegetables, lentils, nuts and sprouts.
Reinfeld recognizes that eating completely raw is nearly impossible for most people. Instead, he and his fellow authors encourage a raw day or weekend once in a while. "Our perspective is that every little bit helps. If you're inspired to have a raw-food snack instead of a bag of Doritos, then we've accomplished our goal."