Car chase on Maui injures 4 officers
Police car allegedly rammed during wild chase
STORY SUMMARY »
Maui police charged a convicted felon with attempted first-degree murder after four officers were injured during a high speed chase that began in Wailuku and headed to northwest Maui on Friday night.
Clinton Estrella, 23, rammed a patrol car several times with his own vehicle and led police on a chase that spanned 15 miles and reached speeds of 65 mph, police said.
The officers suffered injuries ranging from abrasions to a pulled hamstring and an open wound requiring multiple stitches.
Estrella has seven prior felony convictions.
---
FULL STORY »
Four Maui police officers were injured while arresting a convicted felon who led them on a high speed chase after ramming an officer's patrol car, according to a Maui County Police Department news release.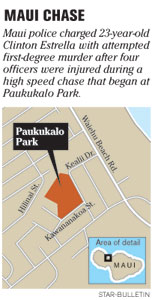 Maui Police charged 23-year-old Clinton A.K. Estrella with attempted first-degree murder, which carries the state's harshest prison sentence, life without the possibility of parole.
The incident began at about 10:30 p.m. Friday night when patrol officers in Wailuku were sent to the Kamehameha Schools preschool parking lot in the Hawaiian Homes Community Center at Paukukalo Park regarding five suspicious men in a Nissan Pathfinder, one of whom allegedly brandished a handgun.
When officers arrived, they found the Pathfinder empty and another vehicle driven by Estrella heading to the exit of the parking lot. Police told him to get out of his vehicle, but Estrella allegedly sped toward one of the officers, narrowly missing him.
Estrella then rammed a patrol vehicle as he drove out of the lot, sideswiping a metal gate, according to the release.
Police chased Estrella who continued to ram the patrol car several times, the release said. Estrella then drove toward Kahakuloa in West Maui with police in pursuit. The chase last about 15 miles with a top speed of about 65 mph, the release said.
Estrella drove off the side of Kahekili Highway near Mile Post marker 8, and came to rest about 40 feet down an embankment.
It took four officers to subdue Estrella by using a Taser and physical force. All four had injuries that included abrasions, a pulled hamstring, swollen joints and an open wound requiring up to 12 stitches.
Police said all the officers were treated at the Maui Memorial Medical Center and released. Estrella also suffered minor neck, leg and mouth injuries and was treated at the police station, the release said.
Damage to the patrol vehicle was estimated at more than $5,000, and Estrella's vehicle was totaled, police said. Estrella was not found with a weapon and has not been linked to the five suspicious men reportedly seen in the Pathfinder, police said. Police have not found the other men at the preschool parking lot.
Estrella has 23 prior convictions including seven felonies, and 45 prior arrests.