| | |
| --- | --- |
| | What the Heck? |
---
A gathering of diverse tribes sends off a fallen friend
Kaimana Beach, 7 a.m., last weekend. A Hawaiian chant, a brief shower, a rainbow. It was a beautiful morning to say good-bye to Sergio.

Since it was front-page news, I figure you've heard that photographer Sergio Goes was lost in a free diving accident July 11.
Called upon to say something for that evening's TV newscast, I noted that hundreds of people would miss Sergio, but that the whole town would miss his creative energy.
Two or three hundred people who missed him showed up for the early morning memorial service.
It was, as events promoter Rick Schneider noticed, a gathering of the tribes. First a who's who of photographers -- Shuzo Uemoto, Ric Noyle, Linny Morris, Monte Costa, David Croxford, Dana Forsberg and Olivier Koning.
Then came the filmmakers -- Brett Wagner, Torry Tukuafu, Stephanie Castillo. Not only did Sergio start the Cinema Paradise film festival, his own film work "really raised the bar for Hawaii filmmakers," said Castillo.
Then the print folks, the editors of Hana Hou, Honolulu Weekly, Hawaii Home+Remodeling, Honolulu Magazine, plus a full complement of art directors.
The surfers came with their boards. The triathletes came on their bikes. There were folks from the arts: Rich Richardson of Arts at Marks and painter Jason Teraoka. And representatives of the local Brazilian community.
After a few reminiscences -- contractor John Bopp brought tears to a lot of eyes -- canoes and a flotilla of surfboards took Sergio's ashes back out beyond the surf line to scatter them.
Members of the Iona Dance Theatre walked into the water fully dressed in white, slowly releasing handfuls of plumeria as they walked.
I tried to say goodbye and found myself angry. I'd known Sergio 15 years, but outside of two or three personal conversations, a drink here, a night out there, our bond had been working together.
Sergio would disappear out of my life sometimes for a year -- and then show up having done something amazing, having completed a film or risked his life taking aerial shots from an ultralight helicopter or created a nightclub/performance space in Chinatown.
I kept thinking he ought to show up again. Damn it, Sergio ...
Bistro Location Sings an Aria
Remember the Bistro at Century Center? Chip Jewitt owns nightclubs around town -- Pipeline Cafe, Kimmy's Cantina, The Red Lion and Deep End. You can now add to that list, Aria Restaurant and Lounge, in the old Bistro location.

Will it be like Pipeline? "Oh, God no," says Jewitt. It will be an elegant supper club with a 1,500-bottle wine cellar, leather chairs, baby grand piano. Nick Sayada signed on as chef.
"It will be the kind of place you can imagine Frank Sinatra and the Rat Pack walking into," adds Jewitt.
Is Jewitt at all worried that the Bistro owners had a very messy and public dispute with the building's tenant association before pulling out? "No," says Jewitt. "The board's been wonderful." Okay, good luck.
In case you're wondering whatever happened to the old Bistro, it continues as a catering operation.
The wine and the tables and chairs and fancy appurtenances are stored in caves in the old Naval Magazine in Kipapa Gulch. Ready to reappear again should the right location materialize.
Still in the Doghouse
After Duane Chapman's time-out for racist language, Dog, Beth and the posse went back onto A&E to good ratings. One question is bothering the fans.

Where's Tim? Tim Chapman -- who Dog sometimes calls his "brother," though they are not related -- wasn't in the first episode, and, according to sources inside the Dog compound, won't be all season.
Tim will be taking time to deal with "personal issues." Like his impending divorce and his January arrest for terroristic threatening at Ala Moana Center, allegedly trying to drive off after being caught with his pants down.
Like Dog's, Tim Chapman's banishment from the airwaves is not necessarily permanent.
Growing an Apple in Waikiki
The Royal Hawaiian Shopping Center will neither confirm nor deny that there's an Apple Store going up behind the forbidding two-story black facade along Kalakaua Avenue.
There's no sign. But if you peek between the cracks, it looks like every other Apple Store you've seen, especially like the one on Boylston Street in Boston.
When will it open? It was supposed to open by mid-June, so anybody's guess. Probably next month.
The Apple Store looks pretty sterile. Much cooler is the Ferrari Store next door. A workman let us in, it's bright red and lively. The only problem: You can't buy a car here, just stuff like a $59.70 teddy bear in a Ferrari T-shirt.
Forever Blowing Bubbles
A friend of mine used to say, "If you can wake up in the morning, it's your lucky day."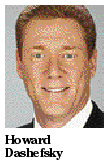 Nonetheless, people seem certain that 08/08/08 will be especially auspicious. So what should you do at, say, 8:08 p.m.?
Blow bubbles, apparently.
Our friend Sandy Pohl of Pohl Galleries says it's time to create some good luck. On 8/8/08 the Chinatown Arts District will throw a party -- food booths, entertainment. Opening ceremonies of the 2008 Olympics will be shown on a big screen on Hotel Street.
At 8:08 p.m., eight lions will dance and, led by KHNL's Howard Dashefsky, everyone will blow bubbles. And make wishes.
The Chinatown galleries will give away 2,000 bottles of bubble mix, but you're welcome to bring your own, in case you aren't lucky enough to be among the first 2,000.