2 plead guilty in New Year's blast
Two men charged with injuring an 11-year-old girl with a homemade bomb in Aiea on New Year's Eve 2004 have accepted responsibility for their actions.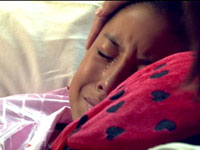 In Circuit Court, Joelson pleaded guilty to assault, reckless endangerment and criminal property damage after injuring 11- -year-old Cydnee Somera in January of 2005.
Joelson G. Ea, 37, pleaded guilty in Circuit Court yesterday to second-degree assault, reckless endangering and third-degree criminal property damage.
Marc B. Bantolina, 39, pleaded no contest to reckless endangering.
As part of their plea agreements with the state, they will not be able to ask for deferrals of their pleas when Circuit Judge Richard Perkins sentences them in November. However, they will be allowed to ask for probation.
Ea and Bantolina were charged with setting off a homemade bomb on Kihale Street that blew a hole through the left hand of Cydnee Somera. She was standing 20 yards away and raised her left hand to shield her face from the blast.
The blast broke three bones in her wrist and damaged tendons to most of her fingers and nerves to her pinkie and ring fingers. Prosecutors said the girl has recovered and is playing sports now.
The blast also damaged cars parked along the street.
Prosecutors said the explosion was caused by the ignition of an acetylene-filled balloon that was placed in a bucket and covered with a metal barbell.