Plea bargain for killer husband debated
The city Prosecutor's Office is defending its decision to allow a man with more than two dozen convictions to plead guilty to manslaughter yesterday rather than face trial for second-degree murder for fatally stabbing his wife in January.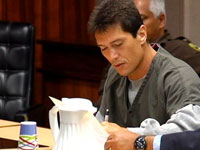 Roy Hartsock plead guilty and confessed to the death of his wife Jenny Hartstock at their Kalihi home.
Deputy Prosecutor Jeen Kwak said she is confident she would have gotten a conviction of Roy William Hartsock for second-degree murder in trial, but said there is always a risk.
"The worst scenario would be perhaps a not guilty or lesser offense," she said.
A neighbor told police he found Jenny Hartsock, 39, in a pool of blood in front of his Gulick Avenue apartment Jan. 9 with a 14-inch knife in her chest. He said Roy Hartsock was leaning over her.
As part of his plea agreement, Hartsock, 40, agreed to accept an extended sentence of life in prison with the possibility for parole -- the same sentence for second-degree murder. The mandatory prison sentence for manslaughter is 20 years.
"The risk of receiving other than life sentence is a risk I could not take and will not take," Kwak said.
Relatives of both Jenny and Roy Hartsock opposed the plea deal and fought to have their say in front of Circuit Judge Richard Pollack in yesterday's hearing. "We really don't feel that he deserves any type of parole. He is a menace to society," said Andrea Hartsock, the defendant's sister-in-law. "We don't want anybody else to get hurt. Jenny's death was senseless and we really miss her."
Pollack accepted the plea agreement but noted Hartsock could have gotten a more severe penalty if he were convicted of second-degree murder and found eligible for an extended term.
"Thus in exchange for having the defendant sentenced to a life sentence with parole, the government gives up the possibility of a life sentence without parole," he said.
Pollack will sentence Hartsock in September. At that time he will order Hartsock to serve a mandatory minimum of six years and eight months in prison before he can be eligible for parole because he is a repeat offender. He has 27 prior convictions.
The Hawaii Paroling Authority will decide whether Hartsock should serve more than six years and eight months before he is eligible for parole.
Hartsock's niece Mercedes Hartsock said she wishes her uncle could have gotten the electric chair.
Jenny Hartsock's father, Thomas Uejo, said he would rather take his chances with a jury than give Hartsock the opportunity for parole. "Roy is an expert manipulator, a big liar and a very big coward. He left my (daughter) dying over there, tried to blame somebody else. This guy got no guts," Uejo told Pollack.
Uejo said Hartsock was given numerous opportunities on parole and failed. He said Hartsock was on parole when he killed Jenny.
Jenny Hartsock's older sister, Tracy Uejo, said that three months before Hartsock killed her sister, he stabbed his wife in the leg with a knife blade so long that it went all they way through to the other leg. She said Hartsock's parole officers believed his story that the injury was an accident and gave him a verbal warning.