Layoffs and slowing economy hit Pohnpei workers hard
KAHULUI » Maui Land & Pineapple Co.'s job cuts are expected to hit the Micronesian community on the Valley Isle particularly hard, with about 80 contract workers from Pohnpei being laid off.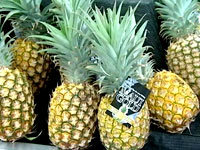 With many feeling Hawaii's economic crunch, Maui Land & Pineapple lays off more than a fourth of its 1,100 employees.
The firm had hired them and provided dormitory housing and meals near pineapple fields below Makawao.
Most of the Pohnpei workers, who were field laborers, will be receiving an airline ticket from the firm to return home, but about 10 workers who have family members on Maui will stay to find other jobs, some workers said.
Pohnpei islanders and other citizens of the Federal States of Micronesia may travel and work anywhere in the United States without a visa or work permit, under an agreement with the federal government and their country.
Marcelino Welter, a Pohnpei work supervisor, said he plans to stay on Maui and find another job because he has two daughters living here.
Welter said he sends money back to Pohnpei to help support his wife and five sons.
Welter said working at Maui Pine gave Pohnpei islanders a chance to earn money and also learn English as well as American culture.
He said he will miss working with his fellow islanders at Maui Land & Pine and feels sad that they have lost their jobs. "Most of them, they are my friends. They're hard workers. They know the work is hard, but they liked working in the fields."
Victor Kato, another Pohnpei islander, said he plans to go back to his home island to be with his wife and three children.
Kato said he was earning $8 an hour packing pineapple at the cannery and does not know what he will do for a living in Pohnpei because jobs are few.
"It's just sad," he said.
Meanwhile the company has announced that 75 ILWU workers are among those being laid off but is still working with the union to determine those individuals whose positions will be terminated.
Union officials said their contract generally calls for giving preference to workers based on seniority. A number of union workers said they felt uneasy not knowing who is being laid off.
"I don't know if it will be me," said Renie Bartolome, a company boiler operator who has worked for the company for 18 years.
William Kennison, Maui division director for the ILWU, said the challenge will be finding work for employees in a slow economy. "The timing is so bad," he said.
James Hardaway, special assistant to the state labor director, said he felt it was too early to predict the future for those being laid off.
Hardaway said the 270 workers laid off when the Kapalua Hotel closed in 2006 found jobs, and state labor officials expect job growth in certain segments of the economy, some slower than others.
"We've had several years of robust growth, when it comes to jobs being created," Hardaway said. "We still have job growth, just not as robust as before."
He said construction is expected to slow but continue to grow, and that state labor officials expect an increase of 3,300 jobs in education and health services and another 3,300 in the food preparation service industry.
Hardaway said there has been a decrease in employment in the airline transportation sector, the leisure and hospitality industry, and in water transportation, including interisland cruise employment.
He said small farmers on Maui, who were facing a labor shortage a year ago and looking at hiring foreign laborers, might be able to provide jobs for laid-off pineapple workers.
"We don't know what the situation is right now," Hardaway said.