Shark attack closes beaches at Makaha
A woman suffers a bite to her arm in the first attack of the year for the state
STORY SUMMARY »
|
READ THE FULL STORY
A woman vacationing on the Leeward Coast was bitten on the arm by a shark yesterday morning, prompting the closure of Makaha area beaches until further notice.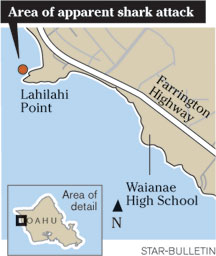 The attack happened while the woman was snorkeling in the waters off the Hawaiian Princess condominiums by Lahilahi Point.
She was able to use her good arm to swim ashore and ask for help, bystanders said.
Rescue officials saw a 16-foot tiger shark in the waters shortly afterward, but a state shark official said it probably was not the same shark that bit the woman because of the size of her injuries and the description she gave.
Officials closed the beach for a mile in both directions from Lahilahi Point and posted "Shark Sighted" signs at Makaha Beach Park.
GENE PARK
---
---
FULL STORY »
A woman in her 40s snorkeling in the waters at Lahilahi Point at Makaha became the state's first shark bite victim this year.
RECENT INCIDENTS
Dec. 10: A shark bit off the tail of a surfboard after apparently becoming caught in a leash about 200 yards from Kaiaka Bay Beach Park In Haleiwa. The tooth impressions were consistent with a tiger shark about 6 to 8 feet long.

Oct. 29: A shark caused a laceration to the left calf of a swimmer about 30 yards from the Keawakapu shore in Kihei, Maui. The shark was not identified.

Aug. 28: A bodyboarder suffered a laceration to the right heel about 400 yards from Makaua Beach Park in Kaaawa by a tiger shark about 10 to 12 feet long.

July 19, 2007: Visitor Harvey Miller was bitten on the left knee and calf by a tiger shark about 8 feet long while he was swimming about 150 yards off Bellows Beach in Waimanalo.

Source: State Department of Land and Natural Resources Division of Aquatic Resources
Siale Havili, a 41-year-old visitor from Utah, saw the woman kicking and swimming toward the shore with only one flipper at about 8:45 a.m. yesterday. He was on the lanai of the unit he was renting.
"She came about 50 feet from the shore, and she lost her second flipper," Havili said. "She came to the shore, holding her arm, and soon enough I saw the blood."
Havili said the woman appeared calm as she approached the condominium pool area to flag down maintenance personnel, including Tony Chapman, who has worked at the property for almost two years.
Chapman said the woman calmly said, "Help, please." The woman said, as he rushed to wrap a tourniquet around her right arm, that she was bitten by a shark.
The woman then instructed Chapman to remove the tourniquet every five minutes and re-tighten it.
"I kinda gave her this look, like 'How do you know that?'" Chapman said. "She informed me she was a doctor. I don't know where they're from. They're just here on vacation."
Chapman then called for the woman's husband, who was surfing nearby. The woman was taken to the Queen's Medical Center in serious condition.
"It was a gash that ran horizontal along her arm," Chapman said, pointing to his forearm. "It looked like that whatever bit her just came up and took a chunk out of her arm."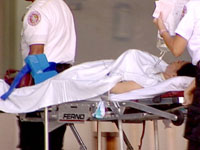 Kaori Fiack was snorkeling near Lahilahi Point when she was attacked by a shark.
Emergency and law enforcement officials saw a tiger shark about 16 feet long shortly after the woman was injured. It was seen about 300 yards off the shore.
"It appears that it is a pregnant female," said Bryan Cheplic, spokesman for the city Emergency Services Department. "Whether it was the one who did this to the woman I can't say."
The woman's descriptions of the shark, as well as her injury, do not jibe with the tiger shark seen after the attack, said Randy Honebrink, spokesman for the state Shark Task Force.
"I think there were two separate sharks, because of the description of the injury and what the victim said to rescuers," Honebrink said.
Officials closed off the waters for a mile in both directions from Lahilahi Point, Cheplic said. "Shark Sighted" signs were posted along the beach, including at Makaha Beach Park.
"The last time we've seen a shark around here was about six months," Chapman said. "That one was just patrolling the waters. But this one was even bigger than that one."
Honebrink said the water was clear yesterday and that it does not appear the woman was doing anything wrong to attract a shark.
"It just goes to show that shark bites happen any time, any place," Honebrink said. "And fortunately, they're extremely rare."
State Department of Land and Natural Resources officials will reassess this morning whether the beaches should be reopened, said spokeswoman Deborah Ward.