---
FAST FACTS HAWAII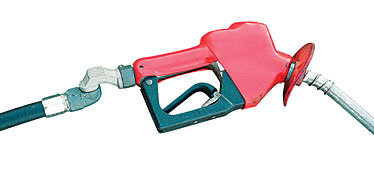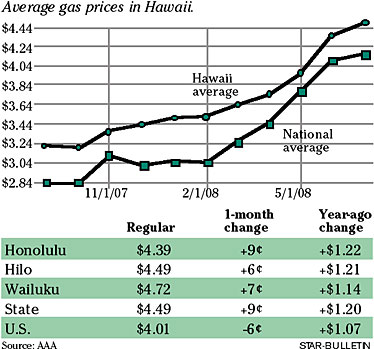 ---
HAWAII
Gas prices hit another high
Isle gas prices set a record high during the past week, inching up by a penny to $4.49 a gallon for regular unleaded. The average price in Honolulu was $4.39 yesterday, up 9 cents from last month and $1.22 from a year ago. In Hilo, a gallon of gas sold for $4.49, up 6 cents from last month and $1.21 from last year; in Wailuku, gas was $4.72 a gallon, a gain of 7 cents from last month and $1.14 from last year.
While isle prices rose, the national average dropped 6 cents in the last month to $4.01.
"Prices are dropping across the country with statewide averages dipping below the $4 a gallon mark now in 30 states," said AAA Hawaii Regional Manager Richard Velazquez. "It remains to be seen if price drops on that order will reach Hawaii so we continue to advise motorists to conserve as much fuel as possible."
Surfing Goat gets humane honor
Maui's
Surfing Goat Dairy
, which is owned by Thomas and Eva Maria Kafsack, will soon become the first Hawaii business to earn the right to use the Humane Farm Animal Care's Certified Humane Raised and Handled label. The label informs consumers that an egg, dairy, meat, or poultry product has been produced with the welfare of the farm animal in mind.
To earn the certification, the cheese and soap producer had to ensure that its farm animals are fed a nutritious diet free of antibiotics or hormones and are raised with shelter, resting areas, and sufficient space to support natural behaviors. Surfing Goat Dairy has 80 does and three bucks on its 42-acre farm in Kula.
Since HFAC's program was unveiled in May 2003, more than 64 companies and farms have been certified across the U.S. HFAC will award the label during a ceremony on Wednesday at Indigo Restaurant in Honolulu.
Disaster program deadline soon
The deadline to be eligible for the Farm Service Agency's 2008 disaster programs assistance is Sept. 16.
To be eligible, farmers must pay required fees at the county FSA office to buy into the program, which helps assist with losses of crops due to adverse weather. To get assistance, a farmer must either have federal crop insurance or buy into the noninsured crop disaster assistance program.
Festival generates $10M for firms
The Made in Hawaii Festival helps generate millions in residual sales for small businesses, festival organizer Hawaii Food Industry Association said yesterday.
More than 35,000 visitors are expected to attend the event, set for Aug. 15-17, which will have 420 booths. Last year, an estimated 37,000 visitors attended the festival, with sales of $1.5 million, plus a projected $10 million in residual sales for the 12 months following the show.
The event will be held at the Neal S. Blaisdell Center from 10 a.m. to 9 p.m. on Aug. 15 and Aug. 16; and 10 a.m. to 5 p.m. on Aug. 17. Admission is $3 and free for children six and under.
Maui credit unions plan to merge
The
Valley Isle Community Federal Credit Union
on Maui said yesterday it will buy out
Lahaina Federal Credit Union
if a merger is approved by Lahaina Federal's union members. The tally will be announced at a membership meeting in Lahaina on Aug. 16.
Lahaina's board voted in favor of the merger, which has also received approval from the National Credit Union Administration.
Valley Isle said no layoffs are anticipated following the merger, which would give the Valley Isle Community Federal Credit Union assets totaling more than
$89 million and a membership of about 11,400.
Hawaiian victim of e-mail fraud
Hawaiian Airlines
said yesterday a fraudulent e-mail is being circulated labeled "Your airplane ticket." It appears as a notice of a new ticketing service and says a new account has been opened in the recipient's name and a ticket has been charged to their credit card.
The e-mail contains an attachment to look like an electronic ticket but is instead contaminated with a virus. It also asks for login, password and credit card information, which Hawaiian would not ask for unless requested by a customer.
BRIEF CASE
TWO THUMBS UP: Netflix Inc.'s second-quarter profit edged up 4 percent to top analyst expectations as the online DVD rental leader signed up 168,000 new customers while spending less money to attract them to the service.
---