Anti-rail groups to sue if ballot petition denied
The mayor supports a Charter amendment on the ballot to decide the rail transit issue
Three groups seeking to have the fate of Honolulu's rail transit system decided by voters say they are prepared to sue the city if their petition seeking a ballot question is denied.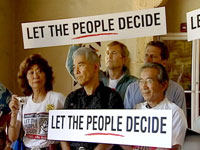 Stop Rail Now says they will sue if the issue isn't on the November ballot.
"We will file suit the day after we submit the petition because the city clerk has told us in a letter that their interpretation of the ordinance means we can't even file," said Earle Partington, an attorney retained by the groups Stop Rail Now, Let Honolulu Vote and the League of Women Voters Honolulu Chapter.
Stop Rail Now has been holding a petition drive to get an anti-rail question before voters. The city clerk ruled last week against allowing the group's question on the Nov. 4 general election ballot.
City Clerk Denise De Costa said she could not discuss the matter in detail because of the potential for a lawsuit.
"All I can tell you is that we take our work very seriously," she said. "We make sure we adhere to the Charter and the law as they apply to the process, and we feel we've taken the correct position on this."
The clerk's office ruled that the City Charter prohibits a special initiative issue from being placed on the ballot within 180 days of an election.
Partington contends the clerk is misinterpreting the Charter.
"It merely prohibits having two separate elections within 180 days of each other for the obvious reason: Special elections cost a lot of money," he said. "We are entitled to have this matter voted on in the general election, and the courts will agree -- I think without any difficulty at all -- if the city clerk adheres to her ridiculous position."
Meanwhile, Mayor Mufi Hannemann repeated his position that he is willing to work with the City Council to place a Charter amendment on the November ballot that would let voters decide the rail issue.
"As I have stated from the outset, we have been working with the City Council to find common ground on a Charter amendment," Hannemann said yesterday in a written statement. "We have been moving forward with a proposed Charter amendment that would establish a Public Transit Authority to properly oversee construction, operations and maintenance of a modern rail mass transit system."
"I would endorse language that would put the Public Transit Authority and the overall question of whether to proceed with rail transit together," he said. "This is the clearest and most sensible way to present this issue to voters."
The City Council unanimously approved a proposal Wednesday for a Charter amendment that would let voters decide whether the city should have a steel-wheel-on-steel-rail mass transit system. The resolution's passage on its first reading before the Council is a procedural step that now sends the proposal to committee for further debate and crafting.