HPD accused of cover-up in fatal crash
Police accused of closing ranks in fatal crash involving officer
STORY SUMMARY »
Honolulu police have a "double standard" for investigating pedestrian accidents when one of their own is behind the wheel, a lawyer charged yesterday.
Arthur Park, who is representing the family of a 73-year-old woman struck and killed by an off-duty police officer in October 2005, accuses police of covering up evidence and not turning over the case for prosecution.
Police Chief Boisse Correa called Park's allegations "irresponsible and insulting" to police and prosecutors.
Police have declined to reopen a criminal case against the officer.
---
FULL STORY »
The lawyer for the family of an elderly pedestrian struck and killed by a car driven by an off-duty police officer is accusing police investigators of using a confusing calculation to hide the officer's speed and protect him from prosecution.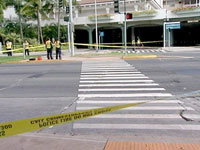 Family says police department is covering up for the officer.
"We are accusing the police and the prosecutor of covering up the speed of Lt. Dement to prevent him from being prosecuted," said Honolulu attorney Arthur Park, referring to Bert Dement, the police officer who hit Ok Nam Lee in an Ala Moana Boulevard crosswalk in 2005. "If you're a policeman you're going to go free. You have a license to kill."
The family is suing the police department and Dement, seeking unspecified damages.
A police accident reconstruction expert calculated Dement was driving between 26 and 43 mph in the 35 mph zone before hitting Lee.
In an April letter asking police to reopen the case, Park said the same police accident reconstruction expert told him the previous speed calculation, based on skid marks, was not reliable. Using a calculation based on the distance that Lee's body was thrown, the expert said Dement's speed was about 50 mph. Park said the expert added that if Dement was driving the speed limit, he could have stopped before the crosswalk.
"There is a double standard in this town," Park said. "There should have been a prosecution. The lieutenant should have been disciplined like any civilian."
In an e-mail, Honolulu Police Chief Boisse Correa called Park's allegations "irresponsible and insulting to the integrity of the Police Department and the Prosecutor's Office."
He said incidents involving officers are scrutinized.
"I have full confidence in our traffic investigation procedures, our investigators, and the prosecutors who screen these cases," he said. "Our investigators go to great lengths to ensure that all investigations are thorough and fair."
He said the evidence has been closely examined and that there is no reason to pursue the investigation further.
Jim Fulton, spokesman for the Honolulu Prosecutor's Office, said prosecutors initially declined the case "based on evidence we had at the time."
Prosecutors are looking at new evidence provided by attorneys, Fulton said, adding he could not comment further.
Shawn Baker, Lee's granddaughter, said she wanted police to show remorse for her grandmother's death.
"We've never gotten an apology," she said yesterday at her attorney's downtown office.
"I totally feel they don't care what happened to our family or our grandmother," she said. "They're treating him (Dement) like he did nothing wrong."
Park said the only discipline the officer received was counseling.
On the morning Lee was hit, Dement was driving east at about 5:40 a.m. on Ala Moana Boulevard to a special-duty job at Ala Moana Beach Park.
Dement, now 55 and assigned to the Kaneohe district, was dressed in an HPD uniform and driving a police-subsidized Monte Carlo, Park said.
Park said the Police Department also carries responsibility in the accident since Dement was in uniform.
According to a police report of the accident, Lee, 73, was crossing in a crosswalk toward the beach with a friend. The friend started crossing when the crosswalk signal was flashing red, she told police.
Lee was running to catch up when she was hit, the report said.
An investigation dated Dec. 14, 2005, concluded that Dement was not driving in a negligent manner and that Lee ran into Dement's path. Prosecutors declined at the time to prosecute Dement.
Park said he raised the allegations of the Police Department's "double standard" after receiving a letter from the department yesterday, saying it declined to reopen the case despite new evidence.
Baker said her grandmother was healthy when she died.
"Our family still has to suffer," Baker said. "We didn't even get to say goodbye."