Service honors strength in sacrifice
Loved ones bid aloha to a Damien graduate slain in Afghanistan
Family, comrades and friends mourned Army 1st Lt. Jonathan P. Brostrom as "an American hero" and "a true patriot."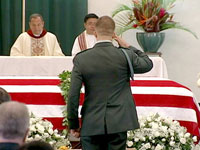 Family and friends remember the life of the fallen soldier.
Brostrom, 24, was killed this month during a firefight at a remote outpost in northeastern Afghanistan.
At a memorial service yesterday at the Holy Family Catholic Church, Blake Brostrom, a senior Army ROTC cadet at the University of Hawaii, described his brother as "the strongest person I ever met, who went through the airborne, air assault, scuba and the infamous ranger schools."
Blake Brostrom said his brother died going to the aid of his platoon, which was in danger of being overrun by militants.
Jonathan Brostrom, 24, and eight other soldiers were killed July 13 in Kunar province near the Pakistani border in northeastern Afghanistan defending an outpost. Fifteen soldiers were wounded during the four-hour firefight, which was the deadliest for the U.S. military in Afghanistan in three years. The incident has prompted Pentagon officials to shift its focus from Iraq to Afghanistan.
"Jon, if you can hear me, I love you and I will miss you always," said his brother at the end of his eulogy, his voice choking up and tears coming down his face.
Two of Jonathan Brostrom's closest friends who knew him at the university and the Army's ranger school talked about the 2002 Damien Memorial High School graduate's zest for life, which was balanced by his love for family, friends and country.
First Lt. Brandon Kennedy said he met Brostrom at Fort Benning's Ranger School and later served with him as rifle platoon leader in the 173rd Airborne Brigade's "Chosen" Company, 2nd Battalion, 503rd Infantry Regiment.
"He loved to wear the maroon beret," which is only issued to soldiers serving in airborne units, said Kennedy.
The last hours Kennedy spent with Brostrom were in Afghanistan at Camp Blessing where the two soldiers bragged about their accomplishments during deployment — each trying to outdo the other. Then, Kennedy said, the two soldiers challenged each other in the company's weight room.
Although he was "a laid-back dude," Kennedy said, Brostrom also was an "accomplished and respected leader."
First Lt. Carter Johnson, who graduated from the UH in 2006 with Brostrom, said he noticed a change in Brostrom's demeanor during his 15 months in Afghanistan. He was more "centered" and "more mature."
Brostrom's unit returned to its home station in Vicenza, Italy, a little more than week after the nine soldiers were killed.
Johnson recalled two other UH Army ROTC graduates — 1st Lts. Nainoa Hoe and Jeremy Wolfe — have died in combat.
In closing, Johnson referred to a tribute Brostrom had written about his platoon sergeant who was killed in January, saying "freedom doesn't come free" and that those back home should remember the soldier's sacrifice.
At the Hawaii State Veterans Cemetery in Kaneohe, Army Spc. Benjamin Stevins played taps as pallbearers from the 25th Infantry Division removed and folded the American flag that had been draped over Brostrom's casket.
Maj. Gen. Benjamin Mixon, U.S. Army Pacific commander, who attended both the funeral and burial services, presented Brostrom's mother, Mary Jo, with the American flag. He also presented Brostrom's father, retired Army Col. David Brostrom, with the Bronze Star and Purple Heart awarded to the soldier posthumously.
Mixon said both those in uniform and their families have "sacrificed greatly in this war on terrorism."
Before the casket was taken away, Brostrom's mother and 6-year-old son, Jase, kissed it, followed by his father and Jase's mother.
After the burial, 1st Lt. Christine Leimbach, a fellow UH Army ROTC graduate, recalled that although Brostrom was "a jokester, he was focused. There wasn't a task he couldn't do."
"He always challenged himself and others," said Leimbach, who will deploy to Kuwait with the Hawaii Army National Guard's 29th Infantry Brigade Combat Team in September.
Jonathan "Jon-Boy" Brostrom would have celebrated his 25th birthday on Aug. 22.