Hawaii players among those at World Series of Poker
THOUSANDS OF poker players departed Las Vegas last week, when the
2008 World Series of Poker
finally wrapped up nearly three months of competition at the Rio Hotel and Casino.
Starting with a "mega satellite" tournament on May 29, more than 50 events were scheduled, culminating in the Main Event from July 3 to 14. This year, however, players are forced to wait until November to see who wins, after organizers instituted a 117-day break to accommodate ESPN coverage of the final table.
While none of the final nine hail from our islands, other WSOP events featured winners with Hawaii ties.
Waikiki resident Mel Randolph did the best, taking home $46,621 after finishing sixth in a Pot Limit Omaha tournament on June 12. Former Hawaii resident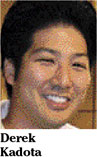 Derek Kadota was another big winner, after a sixth-place finish in a PLO tourney on June 24 won him $12,285.
More winners: Honolulu resident Yong Ho Harrison won $11,950 for his 28th-place finish in a No-Limit Hold'em tournament on June 17 (he'd already won more than $16,000 during WSOP qualifiers) and Anthony "Ken" Lee, a Honolulu Fire Department captain, finished 169th in a June 21 No-Limit tournament and won $3,155. Honorable mention goes to Paul Loh, a former Hawaii resident who made it to the second day of the Main Event, but busted out (and went home empty-handed) shortly thereafter.
Keep up with the 2008 WSOP on ESPN; new episodes air at 2 p.m. Tuesdays ...
RESPECT THE DJ: Congrats to the Nocturnal Sound Krew's DJ Compose,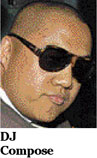 who departs for Canada this week with Tassho "Emirc" Pearce. While DJ Jimmy Taco usually teams with Pearce for local gigs, Compose will join him at the annual Pemberton Festival ... DJ Epic One returns to Oahu after a successful move to Las Vegas. He'll be joined by Chicago-based DJ White Shadow at "Final Friday," a new monthly mash-up showcase at Pearl Ultra Lounge ... The Audible Lab Rats say goodbye to one of the crew on Saturday at Tropics Cafe. DJ Skid is moving to the mainland, and DJs Revise, Careless1, Packo and Jahson the 45 Revolver will be there to help send him off in style. Doors open at 9:30 p.m. ...
FRIDAY'S PICKS: Local photographer Russell Tanoue hosts "The White Party," his 12th annual public birthday celebration at Chai's Island Bistro. Cindy Paliracio and Walter Makaula will host, with special performances by Jennifer Hera and Malika Dudley. Cover is $20; doors open at 11:30 p.m. following a private VIP pre-party ... Hart and Huntington Tattoo Co. presents "Body Art Xposed" at the Honolulu Design Center, starting at 9:30 p.m. Visit www.cupolahawaii.com/reservations.htm to RSVP ... DJ Dimitri from Paris returns for a headlining set at Lotus Soundbar. The night will double as a CD release party for his new album, "Return to the Playboy Mansion," available in stores now ...
SATURDAY'S PICKS: Hawaii Red Magazine teams with Bar 35 on "LIVE @ 35" this week; "Harajuku Lovers" will feature anime videos, DJs Kentaro and Xhift, and prizes for the best Harajuku-inspired attire. Doors open at 9 p.m. ... Dead Scene Division hosts "Respect" at Anna Bannana's starting at 7:30 p.m. Cover is $5 for those 18 and over, with live sets by The 86List, A Hollow Union and The Malcognitas. Proceeds will be donated to the Sex Abuse Treatment Center ... Ooklah the Moc is getting ready for another mainland tour, but they've got a few more shows before leaving. Get to Planet Hollywood Waikiki for "Hawaiiwood" and some quality roots reggae starting at 10 p.m. ...
NEXT WEEK: "Casa" returns with a new biweekly schedule at The Loft. Resident DJ Ms. Angel will be joined by a rotating lineup of guests every second and fourth Sunday at the Chinatown nightspot ... Mai Tai Bar manager's assistant Jiye Ramos needs your help. Her 5-month old daughter, Sydni, was diagnosed with a rare blood disease and must undergo daily chemotherapy for the next year. Ramos' co-workers have pledged all their tips from Wednesday's "Love for Baby Sydni" party to help pay her hospital bills; additional donations will be accepted at the door starting at 9 p.m. ...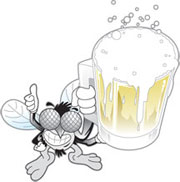 BARFLY
Jason Genegabus' "Barfly" column, which usually appears every last Friday, will be published in next week's HILife.