Ex-fireman allegedly admits arson
A district judge finds enough reason to hold Kenton Leong for trial
A former Honolulu firefighter admitted starting at least two brush fires last week on East Oahu, a police detective said in court yesterday.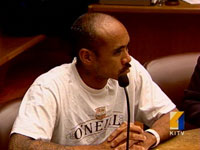 41-year-old Kenton Leong of Kailua confessed to starting two Hawaii Kai fires that burned almost 8 acres.
Kenton Leong, 41, is accused of starting three fires within five hours on Friday, near the Makapuu Lighthouse trail.
Leong appeared before Judge Lono Lee in Honolulu District Court yesterday for a preliminary hearing to answer a charge of first-degree arson. He is being held on $100,000 bail.
Lee found there was sufficient reason to hold Leong for trial in Circuit Court next month.
Leong entered the courtroom wearing a white T-shirt and brown board shorts, with his ankles shackled in chains. He acknowledged relatives with a smile before leaving the courtroom.
Leong, a former rescue specialist with the Honolulu Fire Department, was dismissed on March 14 after 17 years of employment with the department.
Police arrested Leong in the parking lot of Makapuu Lighthouse on Thursday.
Honolulu police Sgt. Dodd Okamura testified seeing Leong, in shorts and no shirt, walk along a dirt path just before the third fire began at about 10:15 a.m.
"I noticed about 50 yards behind him a fire starting to build up," he said. He questioned Leong, who denied starting the fire. He was arrested that morning.
In a police interview in custody, Leong admitted starting the last two fires with an orange lighter, said Detective Thomas Santos.
"He wasn't sure if he remembered lighting the first fire," Santos said.
Leong also told police he was a former HFD firefighter.
"He told me he was no longer employed (by HFD) because there was an issue concerning a urinalysis test," Santos said. "He told me it was for medication that increases the red blood cell count so his body can recover more quickly" for triathlon training, Santos added.
Leong said he was not upset with the department, Santos said.
In a second interview with police, Leong admitted having a problem with crystal methamphetamine, Santos said.
The third fire damaged one acre and burned within 400 yards of a fisherman, who had to walk around it, police said.
Santos said the second fire, which was reported at about 6:40 a.m., damaged about eight acres and was near a tide-pool area where people were present.
The first fire started at about 6:15 a.m. None of the fires threatened any buildings.
A state employee, who testified in court, said the fires burned on state-owned land, called Kaiwi Scenic Shoreline, and damaged endangered plants in the area.


CORRECTION
Wednesday, August 6, 2008
Kenton Leong, the former Honolulu firefighter accused of starting three brush fires, was arrested on July 17. Originally, this article incorrectly reported he was arrested July 18.