| | |
| --- | --- |
| | Newswatch |
---
Big Isle hospital CEO resigns
HILO » Jeff Comer, chief executive officer of the private North Hawaii Community Hospital in Waimea for 2 1/2 months, resigned yesterday in the face of public criticism over the layoff of 59 employees last week.
The hospital said the layoffs were necessary because the facility is facing a combined deficit for this year and next of $7 million.
Comer began his duties at the hospital on May 7, said Kurt Loveless of Denver, the regional vice president for the hospital management company Quorum Health Resources.
"He was the leader of the organization when they did the layoffs. There's been a lot of community contention," Loveless said. While some blamed Comer for the layoffs, others blamed the hospital's board of directors for allowing a deficit to develop under the former management company, Adventist Health.
"The change in hospital leadership is our first step in healing the rifts between the community and our hospital. We recognize that the board itself must undergo an orderly transition process over time," said a statement attributed to "the board."
Board Chairwoman Patricia Bergin was not available for comment.
Loveless said the search for a new administrator might take about 120 days. Quorum has a pool of potential interim chief executives who are retired or between jobs from which one can be chosen within about two weeks, he said.
Man indicted in fatal knife attack
Jason Namauu had 20 knife wounds in his body including two that punctured his lungs, which killed him, said Vickie Kapp, a deputy city prosecutor.
An Oahu grand jury returned an indictment yesterday charging Joel Chris Allen, 63, with second-degree murder for Namauu's killing Thursday under the Keeaumoku Street overpass in Makiki. He remains in custody unable to post bail.
Circuit Judge Derrick Chan confirmed yesterday Allen's $150,000 bail.
Witnesses told police they saw Allen and Namauu, 35, of Maui, sitting in a car near Cartwright Neighborhood Park. They said they then saw Allen punching Namauu, who was dressed as a woman. When they went to intervene they told police they saw a knife and took it away from Allen.
Police said Allen tried to drive off but that the witnesses removed the key from the car's ignition. Allen then fled on foot, but the witnesses followed him and alerted police to where he was hiding.
Kapp said Allen has 21 arrests, including seven for felonies, and seven misdemeanor convictions. His felony convictions include third-degree assault, second-degree theft and auto-theft.
Trial reset for Pali killings
The final two federal murder defendants in the 2004 shooting at Pali Golf Course withdrew their guilty pleas yesterday after U.S. District Judge Susan Oki Mollway rejected their plea agreements with the government.
Mollway rescheduled the trial for Kevin A. Gonsalves and Ethan Motta to Oct. 21 -- the same trial date for the third murder defendant, Rodney Joseph Jr., who withdrew his guilty plea earlier this month after Mollway rejected his plea agreement.
The lawyers for Motta and Joseph told Mollway they preferred a January 2009 trial date. But Mollway said that in case the defendants and government can work out new plea agreements, she believes that can be done before October. And if not, she said she can reschedule the trial to a later date.
Joseph, Gonsalves and Motta pleaded guilty on the eve of trial in February to murder and other charges for their roles in a violent struggle between factions providing security for an illegal gambling operation in Honolulu.
The brazen Jan. 7, 2004, daytime shooting in the golf course parking lot left two men dead and one injured.
Slain soldier from Aiea honored
U.S. and Hawaii state flags at all government buildings will fly at half-staff tomorrow to honor Army 1st Lt. Jonathan P. Brostrom of Aiea, who was among nine soldiers killed when their remote outpost was attacked in Afghanistan last week.
Mass for the 24-year-old Brostrom will be celebrated tomorrow at the Holy Family Parish in Honolulu. Burial will follow at the Hawaii State Veterans Cemetery in Kaneohe. Brostrom, a Damien Memorial School and University of Hawaii graduate, was assigned to the 2nd Battalion, 503rd Infantry Regiment (Airborne), 173rd Airborne Brigade Combat Team, based in Vicenza, Italy.
"Our hearts are saddened by the loss of one of Hawaii's brave sons," said Gov. Linda Lingle in a news release.
| | |
| --- | --- |
| | Police, Fire, Courts |
---
HONOLULU
Police seek man in severe beating
Police need help in locating a 28-year-old man wanted in a December 2007 beating.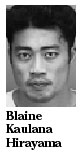 About 1:20 a.m. Dec. 11, a man was leaving Karaoke Hut, at 909 Kapahulu Ave., when he was confronted by a group of men outside the bar. Police said the victim was forced to the ground and allegedly beaten by several males, including Blaine Kaulana Hirayama.
The victim suffered severe facial injuries and a broken arm. Three suspects have been arrested in connection with the case, but Hirayama remains at large and is wanted for second-degree assault, said police Sgt. Kim Buffett, CrimeStoppers coordinator.
Hirayama is described to be 5 feet 11 inches tall, 180 pounds with black hair and brown eyes. Anyone with information is asked to call CrimeStoppers at 955-8300.
WINDWARD OAHU
Navy sailor held on rape charges
A 30-year-old accused rapist from Tennessee was arrested at Kaneohe Marine Corps Base earlier this month.
On July 18, the Hawaii Fugitive Task Force arrested John Davis, a Navy sailor from Memphis. Davis was arrested on a warrant issued out of the Shelby County Sheriff's Office on charges that while in Tennessee he held a gun to a boy while molesting him.
The warrant was issued on July 2. Davis is being held at the main police cellblock downtown pending extradition to Memphis.
WEST OAHU
Waipahu man accused of assault
Police arrested a 20-year-old Waipahu man for allegedly sexually assaulting a 17-year-old girl who is an acquaintance.
Police said the girl alleged the man sexually assaulted her sometime from January through March.
The girl told family members late Monday night, and the family confronted the suspect. They then called police, and he was arrested yesterday at 12:08 a.m. on investigation of first-degree sexual assault at his home on Aniani Place.
WAIKIKI
Teenager sought in violent robbery
Police are looking for a teenage boy wanted in the alleged robbery of a 15-year-old boy.
About 5 p.m. yesterday, the victim was walking in Waikiki when another teenage boy, armed with a screwdriver, demanded his wallet, police said. Police said when the victim refused and tried to leave, the suspect punched him in the neck.
The suspect again made a demand for money, and when he was refused he fled the scene, police said. The victim suffered minor injuries. The suspect is described to be about 15 to 17 years old.