Outrigger Enterprises to keep Ohana Islander
The company will instead renovate the Beach Walk property
Outrigger Enterprises Group
has decided not to sell its Ohana Islander Waikiki hotel, but is proceeding with a $35 million to $40 million renovation of its Waikiki Beach Walk anchor property.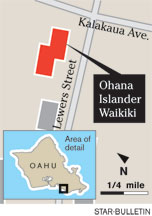 The company, which shut down the midprice hotel at 270 Lewers St. on April 1, had been seeking joint-venture partners since last summer to generate the capital to reposition the 275-room hotel at the mauka end of the Beach Walk project, but was forced to revise its plans due to the crisis in the financial markets.
Outrigger intended to retain only a minority interest and operational control in the redeveloped boutique hotel, which is set to offer 130 luxury rooms, with suites of about 610 square feet.
"The reality is the market fell apart and the prospect of getting an equity partner seemed difficult on terms we would find acceptable," said Outrigger Chief Executive David Carey, adding the company recently signed a contract for traditional bank financing. "At such time when the capital markets recover, we'll look to bring in long-term capital partners for the project."
The property, which houses Quiksilver and the Wyland Gallery, is scheduled for 18 months of renovations with interior demolition under way. It is expected to open by the end of 2009 with a new name independent of Outrigger.
The ground-floor retail is not included in the renovation, which will result in a new restaurant in the lobby of the hotel and a roof-top bar.
Meanwhile, Outrigger expects to bring some of the rooms in its Pacific Tower to market in September as part of a $100 million renovation of the Outrigger Reef on the Beach.