Car runs over teen after alleged jump
The boyfriend of 18-year-old Natasha Taualai told her family she appeared distraught and did not want to go home to Ewa Beach before she jumped out of his moving car onto the H-1 freeway, Taualai's family said yesterday.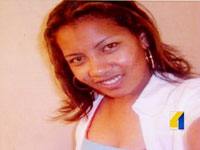 Eighteen year old Natasha Taualai was a passenger in a car, when she ended up on the road she was killed by another car.
Taualai died after being run over by another car, driven by a 65-year-old Ewa Beach man.
The 26-year-old boyfriend was the driver of a two-door silver Mercury sedan when at 12:10 a.m. yesterday Taualai appeared to have jumped out of the moving car as it traveled westbound on the freeway near the Waipahu offramp, police said.
"From what (the boyfriend) told us, she just opened the door and just jumped out," said Taualai's cousin Ashley Faitau, 20. "That's not her. She's not the type to jump out of a moving vehicle."
Faitau said the boyfriend "was just crying and crying."
The boyfriend stopped the car after the accident. He was interviewed later by investigators, but Maj. Frank Fujii declined to discuss the details of the interview because it is part of the investigation, he said yesterday afternoon at a news conference.
Fujii asked for witnesses to come forward to provide more details on the case.
Fujii said witnesses told police there were at least two other cars that had swerved to avoid Taualai. In addition to those motorists, Fujii asked for any other witnesses that may have seen the silver Mercury sedan prior to Taualai jumping from or exiting the car.
Anyone with information is asked to call 529-3499.
The Honolulu Medical Examiner's Office identified Taualai, of Ewa Beach, but declined to release details of the autopsy conducted yesterday and said the cause of death is "multiple internal injuries due to motor vehicle collision."
Relatives described Taualai as a quiet, shy, happy young woman who never argued, a tomboy who enjoyed sports. She had attended Waipahu High School but never graduated. She took an extended first trip to Samoa during her sophomore year and got to know her maternal grandparents and relatives there, her cousin said.
Cousin Daysha Salanoa, 18, said her cousin kept the relationship she had with her boyfriend hidden from most of her family.
On Friday, before leaving her grandparents' house to go to the movies, "she said, 'Bye, Grandma, I love you,'" said her aunt, who did not wish to be identified. "She told her small cousins, 'Bye, I love you.'" She said there was something unusual, a finality to her goodbye.
In a telephone interview, her father, Tau Taualai of Georgia, said, "No sense of blaming whoever the cause. The bottom line is she's not here anymore. Hopefully she's in a better place."
Cousin Terance Fuiava worked at Jack-in-the-Box restaurant last summer when the boyfriend was a manager there and Taualai worked as a shift supervisor.