43 caught in raid
Arrested in Waipahu, the Mexican citizens are suspected illegal migrants
Federal agents arrested 43 suspected illegal immigrants Sunday in a raid at a Waipahu apartment complex, immigration officials said yesterday.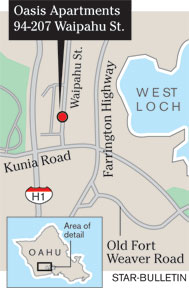 U.S. Immigration and Customs Enforcement agents executed nine search warrants at the Oasis Apartments and arrested the 43 men, all Mexican citizens, who were employed by the Farms, an agricultural business, officials said.
The men are being held at the federal detention center pending hearings to deport them back to Mexico.
Wayne Wills, special agent in charge of the Immigration and Customs office here, said 43 is the largest number arrested this year in a workplace case.
In May, immigration agents arrested 22 suspected illegal immigrant workers at two chain restaurants on Maui. And in December, immigration officials arrested 19 foreign nationals on immigration charges at a downtown construction site and a Halawa warehouse.
Wills said the arrests are part of an ongoing pursuit of employers who violate the country's hiring laws.
The U.S. Attorney's Office is determining whether to file criminal charges in cases in which the men provided false information to get hired, immigration officials said. Those criminal charges carry up to five years in prison, according to Assistant U.S. Attorney Tracy Hino.
The Farm officials could not be reached for comment.
Wills said Sunday's arrests occurred without incident. The U.S. Marshals Service, the state Sheriff's Division and the U.S. Coast Guard Investigative Service assisted, he said.