| | |
| --- | --- |
| | Newswatch |
---
Local Obama fundraiser in works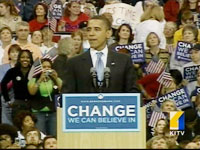 His champaign has scheduled a high priced fundraiser in Waikiki and there MAY be a larger event for the general public.
Presumptive Democratic presidential candidate Sen. Barack Obama is planning an August fundraiser in Honolulu, according to political sources.
Obama's local campaign spokesman, Andy Winer, said he could not comment, but said, "We hope to have an announcement later in the week."
Sources said Honolulu Mayor Mufi Hannemann and local financier Walter Dods are the co-chairs for the event scheduled for Aug. 12 at the Halekulani Hotel. Obama is scheduled to appear. Neither Dods nor Hannemann would comment.
Fundraisers started making phone calls Friday, according to three political sources.
The price for the event is $2,300. There is also a $10,000-per-person private reception beforehand.
Obama was expected to visit Honolulu, his birthplace, before heading to the Democratic Convention in Denver at the end of August.
Man gets 1-year term in assault
A 25-year-old California man was sentenced yesterday to a year in jail for landing what a prosecutor described as a "Superman punch" on an unsuspecting man in Waikiki last year, causing brain damage and permanent disabilities.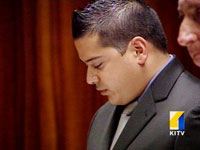 But city prosecutors react with anger to a one year sentence for a man who put a stranger in a wheelchair for life.
Ryan Carrillo was in Hawaii to attend last year's Pro Bowl when he ran up from behind Jesse Greenwood, jumped in the air and landed a punch on his way back down to the back of Greenwood's head outside Moose McGillycuddy's Pub & Cafe on Lewers Street in Waikiki on Feb. 12, 2007.
Greenwood fell to the ground and hit his head on the pavement. Deputy City Prosecutor Chris Van Marter said Greenwood, 30, also of California, suffered permanent brain damage and is permanently disabled.
Carrillo was charged with attempted murder. But following a nonjury trial, Circuit Judge Richard Pollack found him guilty in May of first-degree assault. Pollack handed Carrillo the one-year jail term and five years' probation yesterday. He also ordered Carrillo to make $13,470 restitution.
Van Marter said Greenwood has so far incurred more than $800,000 in medical expenses and will likely need round-the-clock care for the rest of his life estimated to cost $6 million.
Greenwood and his family are suing Carrillo and Moose McGillycuddy's, where Greenwood and Carrillo were drinking before the assault.
Scam tax e-mail making rounds
Officials are warning Hawaii taxpayers of a new e-mail scam that informs recipients that they are due for a tax refund and asks them for confidential information.
The e-mail informs taxpayers to go to a Web site -- which is almost identical to the state Department of Taxation's official site -- to submit their Social Security number, debit card number, PIN number and card security code.
Recipients should not reply to the e-mail.
Officials said the Department of Taxation does not send taxpayers e-mails regarding tax refunds. While its Web site allows taxpayers to check on the status of their refunds, it does not ask for taxpayers' debit card information.
Anyone who receives the fraudulent e-mail should immediately report it to the Department of Taxation at 587-1540.
Missing Kauai man found OK
KOKEE, Kauai » A 21-year-old hunter was found unharmed yesterday morning after getting lost in Kokee over the weekend.
Cody Kimura was taken to Kauai Veterans Memorial Hospital for observation and was treated and released.
After being released from the hospital, Kimura's first request was to have a bowl of saimin at Hamura Saimin Stand, county officials added.
A search team came across Kimura walking down a dirt road at about 9:45 a.m. yesterday. He was reported to be cold and dehydrated but was fine otherwise.
Kimura went goat hunting with his 15-year-old brother and another friend Saturday. Kimura went to the car to retrieve an item and was reported missing early Sunday morning when he did not return.
More than 80 people from the Kauai Police and Fire departments and the state Department of Land and Natural Resources searched the Sugi Grove area, while rescue officials conducted an aerial search all day Sunday.
| | |
| --- | --- |
| | Police, Fire, Courts |
---
HONOLULU
Chinatown attack leads to arrest
Police charged a 43-year-old man Sunday for allegedly knocking a man unconscious and taking his money in Chinatown.
Larry Lopez Jr. of Kahaluu was charged with second-degree robbery and unauthorized possession of personal information. He was being held in lieu of $50,000 bail.
Police said Lopez punched a 54-year-old man, knocking him unconscious, at about 6:45 p.m. Saturday.
Two witnesses saw Lopez take money from the victim's pants pocket and identified him to officers, police said.
Police arrested Lopez at the corner of Smith and Hotel streets and recovered the victim's ID and cash.
NORTH SHORE
Man, 50, is slashed at Haleiwa harbor
A 32-year-old man has been charged with slashing a 50-year-old man with a knife in Haleiwa over the weekend.
Conrad Isaac Aplaca, of no local address, was charged Sunday with second-degree assault and unauthorized entry of a vehicle, according to police. His bail was set at $50,000.
Aplaca slashed the victim with a knife during an assault at about 4:45 p.m. Saturday at Haleiwa Boat Harbor, police said.
Aplaca fled and was found about 50 minutes later at a nearby house on Naoiwi Lane.
The victim, who was taken to a hospital, was in fair condition.
WINDWARD OAHU
Police searching for store robber
Police are looking for a man who robbed a Kaneohe business Saturday night.
The robber walked into the store shortly after 8 p.m. and tried to purchase water.
When the cashier opened the drawer, the robber pointed a handgun at her and took money from the cash drawer. He fled before police arrived.
Judge sets bail for alleged arsonist
A former Honolulu firefighter accused of setting a brush fire in Hawaii Kai made his first appearance in court yesterday, where the judge set his bail at $100,000.
Kenton Leong, 41, a recently fired Honolulu firefighter, is accused of setting a fire at Kaiwi Trail on Thursday. Firefighters and police responded after two brush fires were reported. According to court documents, a woman said Leong had asked her how to walk around the second of two fires, but she noticed he was acting suspicious because he was not taking the safest way around the fires -- which was toward police officers and the firefighters.
A fisherman said he saw a "patch of brush ignite shortly after Leong passed it, causing the third brush fire," court documents said.
Suspect in slaying appears in court
A man accused of fatally stabbing another man in a vehicle in Makiki on Thursday appeared yesterday in Honolulu District Court.
Joel Chris Allen of Nuuanu was charged with second-degree murder for allegedly stabbing Jason Namauu of Maui on Thursday. His bail was set at $150,000.
According to court documents, three witnesses saw Allen punch Namauu several times as the two sat in a car under the Keeaumoku Street overpass near Cartwright Neighborhood Park in Makiki on Thursday night.
The witnesses stopped Allen from driving away by removing the key from the car's ignition. They also took a knife away from Allen, court documents said.
Police said the suspect fled followed by a witness who summoned police. The suspect was arrested at the parking lot of Times Super Market on Beretania Street.
Fasi's son gets bail set at $500,000
A son of former Mayor Frank Fasi appeared yesterday before District Judge Leslie Hayashi on a charge of second-degree robbery.
Carl Fasi, the eldest son of the former mayor, was charged with second-degree robbery after allegedly being found with stolen items on July 18. The bail for Fasi, who has a long criminal history, was set at $500,000.
"Why so high?" Fasi asked the judge, noting he wanted to go to rehabilitation, "but I can't do so with $500,000 (bail)."