| | |
| --- | --- |
| | What the Heck? |
---
Racing the open sea with sail and paddle
The canoes pulled up along Secret Beach, near Kualoa. At the party in a nearby backyard, the crews seemed tired. They'd just braved the 48 miles from Molokai in six-person canoes.
Members of the Hawaiian Sailing Canoe Association, they had used long deep strokes to keep their small outrigger canoes in trim above the water. But they hadn't just paddled. They'd also rigged sails and had crossed the channel in a brisk four to five hours.
"Of course, the ancient Hawaiians used sails," said Terry Leilani Galpin, association president. "Why just use muscles when you could use wind? We try to make the canoes as traditional as we can."
The canoe association holds a season of races, starting with a run from the Big Island to Maui, Maui to Molokai and, last weekend, Molokai to Kaneohe Bay. The season concludes Aug. 9 with a race to Kauai.
Paddling races like the Molokai Hoe can draw thousands of spectators. The sailing canoe races drew, well ... us, a few friends and me on a powerboat out in Kaneohe Bay. We cruised out toward Moku Manu, that gap-toothed, guano-smeared island, to welcome the nine canoes with their peaked triangular sails.
Galpin's canoe had a bright pink sail and an all-wahine crew. "Did you win?" I asked. "No," she said, disgustedly. "We weren't even the first women."
A nearly all-women's crew, captained by Marvin Otsuji, beat them and almost outsailed the eventual winner, a Kauai canoe called Tui Tonga. "You aren't going to let a bunch of girls beat you," yelled Tui Tonga's captain, Donnie Jones, near the finish line, ignoring the fact his own crew included one female paddler.
Men or women, the sailors are tough. Galpin sailed from Molokai despite a wretched case of the flu.
"How come this sport isn't better known?" I asked her.
"Because it's hard for novices to learn," she said. "Those are big channels, and we don't have one escort boat for every canoe. People could die out there."
On her first race as captain 13 years ago, Galpin huli'd the canoe on the backside of Molokai, and had to call the Coast Guard. "I tied a stay line in the wrong place," she said. "Dumb mistake. I've never made it again."
And Your Little Dog, Too
Unlike the Cowardly Lion, Rob Duval, who directed Diamond Head Theatre's "Wizard of Oz," has courage. His show has a 14-year-old Dorothy (Kalia Medeiros) and a chorus of 20 children, aged 7 to 13, some playing flying monkeys on roller skates.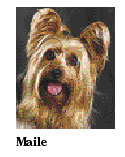 And a dog. Maile, the Australian silky terrier who plays Toto, is onstage almost every scene.
Maile's owner, Pat Ferraris, and her partner, Jan Davis, live in Mokuleia. But for the three months of rehearsals and performances, they rented a cottage across the street from the theater. "We didn't want Maile to have to commute," they explained.
"Maile took direction incredibly well," said Duval. Except for her tendency to bark loudly during Dorothy's big solo, "Somewhere Over the Rainbow."
Ferraris and Davis admit that, perhaps, Maile wants to steal the scene. "She likes attention."
The show? A high-energy, polished, traditional production. You should not only go, but you should take a child or two. And for heaven's sake, buy them an a battery-powered magic wand at intermission, so they can help wish Dorothy back to Kansas.
The Upside Down Canoe story
"I've lived with this memory for 30 years," says Marion Lyman-Mersereau.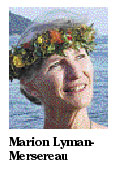 A Punahou teacher, Lyman-Mersereau is also skilled on the water, just last weekend leading a crew to victory in the Kaupiko Regatta.
She helped build the Hokulea, and she was the only woman on aboard during the ill-fated 1978 voyage in which Eddie Aikau was lost at sea going for help for his crewmates on the capsized vessel.
"I've told this story to students for decades, but it always ended so sadly," she says. "I finally found a way to tell it." Her children's book, "Eddie Wen' Go," tells the Aikau story from the perspective of sea creatures who attest to his heroism.
"I think I finally reconciled myself to what happened," she said. "It's the last book. Or maybe one more."
You can catch a dramatic reading of her book, live, at Native Books, Friday, 6 p.m.
Can this Elephant Be Saved?
"I know we promised you an exclusive," says Paul Kreiling. "But people are coming out of the walls -- like mold. Just got a call from KHON, they're sending a crew."
A sign went up on the Bethel Street door last Sunday, saying rRed Elephant was closing. (Breaking that news was Jason Genegabus in his Star-Bulletin blog.)
Late last week, the cafe still open, I sat with owners Kreiling and Joey Wolpert at a sidewalk table. A guy who would only identify himself as Tod rolled by in a wheelchair. "You closing?" he said. "Major bummer."
Since opening in 2004, rRed Elephant has become gathering place for the Chinatown Arts District. But the coffee shop was never the point. "rRed Elephant was always supposed to be a media company," says Wolpert.
It has a performance space and a state-of-the-art recording studio. For the last few years Wolpert and Kreiling have been trying to launch a music TV series, "Live @ the rRed Elephant."
The cafe closed Friday, but the lease on the space still has two weeks to go. "We could save rRed Elephant," said Kreiling. "We have the crew, the contracts, the musicians in place to do the TV show. All we need is an investor."
If you're interested: $2.1 million for a whole season, $350,000 for six pilot episodes.