Fatal stabbing victim ID'd as Maui man
A 35-year-old man stabbed to death Thursday in a car beneath the Keeaumoku Street overpass as people played in a park nearby has been identified as Jason Namauu of Maui.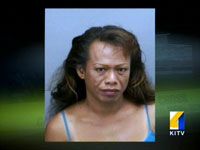 The victim of a fatal stabbing in Makiki has been identified as 35-year-old Jason Namauu who has a history of charges including prostitution.
The Honolulu Medical Examiner's Office, which identified Namauu, said he died at 7:14 p.m. of a stab wound to the chest, at the Queen's Medical Center.
Police responded to a 6:30 p.m. call of a stabbing and arrested a 63-year-old man on suspicion of second-degree murder. He was being held at the police cellblock last night awaiting charges.
Witnesses said Namauu had been wearing women's clothing. Namauu's criminal record includes nine convictions, including on a charge of prostitution in April.
A homeless man who declined to give his name told the Star-Bulletin yesterday that he saw the victim stabbed repeatedly.
The man said that before the stabbing he saw the couple sitting in a gold-colored car for about 90 minutes in the Cartwright Neighborhood Park parking lot beneath the overpass.
He thought they were resting. He went to use the restroom and, upon returning to the lot, saw the man in the driver's seat punching someone who looked like a woman sitting next to him. Then he saw blood and a silver knife.
"The blood was all over the place," he said. "It was flying all over. It was on him."
The victim was reclining in the passenger seat, kicking and screaming, he said. The suspect continued to stab the victim.
"I panicked and I went across the street," the witness said.
He approached a van and asked a woman inside to call police. Then he saw two men approach the driver's side door of the suspect's car as the suspect tried to drive off.
The suspect instead got out and fled, pursued by a witness who eventually flagged down an officer and pointed out the suspect.
Police arrested him at 7:10 p.m. at 1299 S. Beretania St. in the parking lot for Times Super Market. Police also recovered a knife at the crime scene.
Police said the suspect lives at a commercial dormitory at 1325 Nuuanu Ave.
Tom Shinsato, the property manager, said the suspect had lived there for a couple of years.
"I'm surprised," Shinsato said. "He's a good guy."
Chason Rodrigues, 19, who lives near the park, said he was not surprised that a man was stabbed to death there -- someone had been stabbed there before.
But he still felt uncomfortable.
"It's just so close to where I live," he said.