Judge imprisons identity thief for victimizing fellow Marines
Cpl. Daniel Alfieri deserved the five-year prison term he received yesterday for stealing the identities of fellow Kaneohe Marines while they were deployed to Iraq, one of his victims said.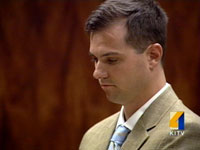 Corporal Daniel Alfieri was sentenced to 5 years in prison after stealing the identities of 5 fellow Kaneohe Marines, some of who he had fought with in Iraq.
"We will never forget what he did. He waited in ambush like a spider," said Staff Sgt. Shawn Garrett, who added that the sentence was justified because of what appeared to be a calculated scheme by Alfieri pulled right after the Marines were deployed.
Alfieri had pleaded no contest to 14 counts of identity theft and eight other related charges for stealing the identities of five Kaneohe Marines.
Alfieri asked for a five-year probation, citing post-traumatic stress disorder and symptoms of bipolar disorder. He also cited his years of service in the Marines and his clean record.
Circuit Judge Randal Lee sentenced Alfieri to five years in prison, calling his claims of disorders "questionable."
"In essence what the defendant did was steal from his own family," said Lee, adding that giving a probation sentence would depreciate the seriousness of the crime.
Alfieri was accused of using personal information of his fellow Marines to apply for credit cards over a pay phone and the Internet. He stole a credit card already issued to one of the Marines and applied for another card using that Marine's name.
He made various small purchases at grocery and retail stores, restaurants and gas stations.
Alfieri apologized to the victims yesterday and asked the judge for deferral of his no-contest plea, hoping to retain his clean record. He said he wanted to seek medical help for his mental state.
"My mind is truly not in a healthy place," said the married father of two.
Deputy Prosecutor Chris Van Marter said prosecutors requested five years, and not the more than 50 years Alfieri could have received, because they recognized Alfieri's years of military service and clean record.
Garrett was deployed in Iraq last year when his wife, Andrea, called him about a new credit card created under his name. Alfieri tried to open five credit cards under Garrett's name and was able to create one.
A postal worker discovered the falsely created card before Alfieri was able to use it. But the damage was done, Garrett said. He began to worry about his wife's safety when he should have been focused on the mission, he said.
"My head needs to be forward. I need to think about the Marines. I need to think about the mission," Garrett said yesterday after the sentencing. "Not what is going to happen here -- is my wife OK, or is she going to be able to pay bills ... or is he going to come to my house and threaten my wife because she's the one who turned him in?"