Ex-Honolulu firefighter charged as arson suspect
A recently fired Honolulu firefighter sat in jail last night, accused of setting at least one East Oahu brush fire.
The arson arrest of someone trained to fight blazes, while stunning to the Honolulu Fire Department, is not uncommon in the profession.
"Here in Hawaii this is very unusual; on the mainland, not so much," said former Honolulu Police Department arson investigator Stephen Whiting.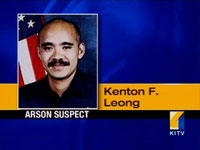 Kenton F. Leong, 41, of Kailua was arrested in connection with three brushfires that were reported to have been set off consecutively in Hawaii Kai.
Kenton Leong, 41, of Enchanted Lake was charged last night with first-degree arson after he was arrested Thursday morning at the scene of three brush fires along the Ka Iwi Coast. Leong, a former rescue specialist, served 17 years with the Honolulu Fire Department and was dismissed March 14 for reasons a department spokesman said he could not disclose.
Firefighters quickly snuffed out a brush fire reported at 6:14 a.m. Thursday near Alan Davis Beach not far from the Makapuu Lighthouse trail.
At 6:40 a.m. another brush fire was reported nearby but more than 100 yards from the initial fire, making it improbable the first blaze had caused the second one, police said. The second fire was contained at about 9:15 a.m.
Then at about 10:15 a.m., a police officer saw a suspicious man walking out of the brush toward the Makapuu Lighthouse trail parking lot. The officer reportedly saw a third fire ignite in the area from which the man was coming, about 300 yards upwind from the second fire.
Leong was arrested and remained in jail last night. Bail was set at $100,000.
The HFD investigator determined the third fire was intentionally set.
Fire Capt. Earle Kealoha said he has heard of one or two arson cases by firefighters in his 26 years with the department.
"It's unfortunate," he said. "It's not one of the events that gives us favorable light, but it has happened."
Whiting, now a retired private fire investigator, said there have been several similar mainland cases and recalled one Hawaii case from the 1970s in which a fire captain set fire to a variety of things in order to collect the insurance money. "He had a regular scam going. ... He was just a flat-out crook."
The most well-known mainland case is that of California fire captain and arson investigator John Orr, who in the 1980s and '90s "wanted to be the hero, to be the one to figure out all the fires," Whiting said. Orr wanted to be able to "walk in and say, 'Oh the fire started here.' It's not too hard when you were the one that started it," Whiting added.
He also recounted the story of a small-town volunteer firefighter who liked going to fires, but because the town had so few, he started them himself. And a woman working at a national park confessed to starting a series of forest fires, Whiting said.
CORRECTION
Tuesday, July 22, 2008
Stephen Whiting is a retired private fire investigator. Originally, this story said he was still working in that role.