---
FAST FACTS HAWAII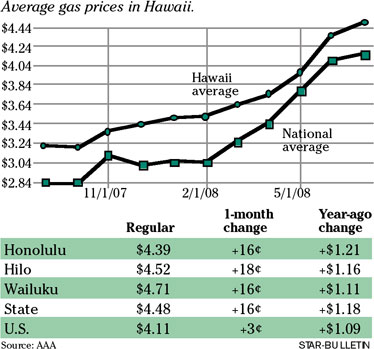 ---
Gas prices inch up again
Gas prices set another record high in Honolulu this week, but the statewide average remained at $4.48 for the second consecutive week, according to the AAA.
Yesterday's average price in Honolulu was $4.39 a gallon for regular unleaded, 16 cents higher than last month. In Hilo, the average price was $4.52, 18 cents higher than last month; and in Wailuku, it was $4.71, 16 cents higher than last month.
Hanapepe Armory gets grant
Gov. Linda Lingle has awarded $550,000 in planning, design and construction funds for the renovation of the Hanapepe Armory on Kauai.
Improvements will include replacing the armory's roof, classroom ceiling tiles that were damaged by heavy rains in 2006 and rusted gutters and downspouts; as well as repairing damaged structural elements.
The project is also receiving $594,500 in federal funds. Construction is scheduled to be completed in December.
Healthy living could save $70M
Hawaii could save $70 million in five years by investing in community disease prevention programs, a study released Thursday shows.
The report by Trust for America's Health says spending $10 a person each year in programs to increase physical activity, improve nutrition and prevent smoking could save the country more than $16 billion annually within five years. For Hawaii, that is a return of $5.60 for every $1, the same as the national average.
The findings are based on a model developed by researchers at the Urban Institute and a review studies conducted by the New York Academy of Medicine.
Parade of Homes entries open
The Building Industry Association of Hawaii will present the 52nd annual BIA Parade of Homes from Oct. 11-12 and Oct. 18-19. The open houses are intended to educate participants on the latest in residential construction.
The theme this year is "Discover the Home of Your Dreams"; the deadline for entries is next Friday. Developers and contractors may enter multiple projects.
To obtain an entry form, contact Karen Winpenny at 847-4666, ext. 201, or kkw@biahawaii.org. Visit www.biahawaii.org for more information.
Finance Factors fete raises $7,300
The 13th annual Finance Factors benefit breakfast last week raised $7,300 for the Christian-based River of Life Mission. Participating companies included
Akyth Inc.
,
Kukui Sausage Co.
and
Meadow Gold Dairies
.
Each year, Finance Factors raises funds for a range of nonprofit organizations in Hawaii.
Finance Factors has been providing financial services in Hawaii for more than 55 years.
Banana Leaf opens 7th isle eatery
Banana Leaf Italian Bistro
is now open at Market City Shopping Center.
The 1,580-square-foot eatery - owned by Ken and Cindy Wong and Sam and Fiona Lo - is located next door to Aloha Professional Imaging.
Banana Leaf's menu offers more than 70 different items for lunch and dinner, ranging from $10 to $30 per entree.
Local restaurateur Ken Wong owns a total of seven restaurants, including five Sumo Ramen locations, one of which is also at Market City Shopping Center.
Isle real estate blog launched
Prudential Locations
, Hawaii's largest locally owned and operated real estate company, said yesterday it has launched
www.HawaiiRealEstateReporter.com
, an interactive blog that tracks Hawaii real estate trends through written posts, videos, as well as interactive discussion.
Visitors can read and comment about daily posts in response to nationwide articles. Streaming video is another medium for blog viewers to obtain tips from experts.


---
BUSINESS PULSE