Mrs. Hawaii takes worldly experience to national contest
AFTER NEARLY five years out of the spotlight,
Lehua Nahina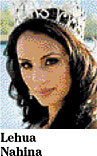 has traded a microphone for a tiara to represent Hawaii at next week's Mrs. United States pageant.
Now married to professional surfer Kapono Nahina and mother of 4-year-old daughter Kaianna, the former Lehua Sandbo became a Japanese pop star in 1999 when she joined the group Coconuts Musume. Led by Japanese singer Ayaka Kimura, Coconuts Musume cycled through a number of members with Hawaii ties.
Like April Barbaran and Chelsea Ching before her, Nahina had a tough time dealing with the demands of Japanese fans and quit the band after three years. She came home, got married and gave birth, and enrolled as a nursing student at Hawaii Pacific University before deciding to return to the stage.
Last month, Nahina was named Mrs. Hawaii United States; she's the fourth St. Francis School graduate to win a local beauty pageant in the last eight years, following in the footsteps of Leslie Lam (Mrs. America 2000), Nadine Wise (Mrs. Hawaii 2007) and Chanel Wise (Miss Hawaii USA 2007) ...
SPEAKING OF beauty queens, congrats to Nicole Fox, who was crowned Miss Hawaii 2008 on Friday at the Hawaii Convention Center.
I spent a few minutes watching the pageant's live telecast on OC-16, tuning in just in time to see my pick, Raceen Woolford, named third runner-up. Naomi Klein and Caroline Chapman were named second and first runners-up, respectively, before KINE-FM's Billy V announced that Fox won a brand-new Mini Cooper and system pass on Hawaiian Airlines - and the opportunity to represent Hawaii at this year's Miss America competition, of course.
But the ultimate highlight came at the end of the telecast, when Fox leaned over for a picture and her new crown immediately fell to the floor.
As a look of pure joy slowly turned to terror with the realization of what had just happened, KGMB anchorwoman (and Miss Hawaii 2005) Malika Dudley calmly walked over, picked up the crown and refastened it as cameras continued to roll. Classic ...
CONCERT NEWS: BAMP Project recently announced two more concerts at Pipeline Cafe, along with the rescheduling of a previously announced date. Unwritten Law is now scheduled to play Aug. 27, followed by Thrice on Sept. 5 and Underoath on Oct. 4. Tickets for all three shows are on sale now at Ticketmaster outlets ... 102.7 Da Bomb, Razor Concepts and Torch Entertainment will be at Pipeline on Aug. 9, when Ray J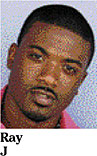 arrives to perform his hit single, "Sexy Can I." Doors open at 6 p.m. for this all-ages show, with $20 pre-sale tickets available at Razor Concepts' Pearlridge store. Call 296-1027 ... Local street-wear retailer DIG Lifestyles has partnered with MySpace.com to host The Release, a free concert featuring underground hip-hop stars Little Brother at NextDoor. Doors open at 9 p.m. Aug. 16 for this free show; first come, first served. You've got a shot at a free guaranteed-admission wristband if you visit DIG starting Aug. 13 ...
WEEKEND PICKS: Support the return of roller derby to Hawaii by taking part in the Pacific Roller Derby Fundraiser at Anna Bannana's on Saturday. Cover is $10 for this 21 and over party, with live performances by Before Fire, Commando, Smitz, Cyndi Powell, The Slobs, Corpus Black, On a Death Mission and A Hollow Union. The fun starts at 7 p.m. ... If you've missed The Deadbeats' midweek performances at Jazz Minds, you now have the chance to see them on a bimonthly basis at the Mercury Bar. Saturday's "Strange Fruit" will take place every other month from 9 p.m. to 2 a.m. with a "charismatic, neighborly optimistic approach on life combined with jazzy-hip-hoppy-funky-rocky-super-dopetronical beats and charmingly lucid lyrics." Cover is $5 ... Although the opening of the new "Waikiki Nei" production at the Royal Hawaiian Center has been delayed until next week, this weekend marks the first time the general public can party at LEVEL4, the nightclub/ultra lounge that will be open four nights a week after performances have finished. The Jabbawockeez will be featured guests at Saturday's soft opening party; call 931-6200 for VIP reservations ...