Tobacco survey finds kids are able to buy
Illegal sales of cigarettes to minors in a state undercover survey rose this year in spite of declining rates of youth smoking.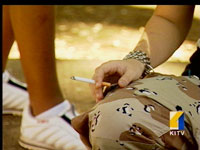 Annually the state sends underage teens across the state to try to buy cigarettes. This year's number has been the highest in 10 years.
Children working with the state Department of Health visited 304 stores statewide and were able to buy cigarettes at 34 stores, or 11.2 percent. Last year's rate was 8.7 percent.
Oahu stores had the highest rate of sales to minors at 15.5 percent. Neighbor island rates were substantially lower, with 5 percent on the Big Island and no sales for Maui and Kauai.
"Keeping tobacco out of the hands of our youth is a critical part of reducing underage smoking in Hawaii," Lt. Gov. James "Duke" Aiona said in a news release.
"While most Hawaii clerks are doing a good job at checking IDs and not selling tobacco to our keiki, we need all store clerks and merchants to ask anyone who looks younger than 30 for their ID."
The statistics come from an annual survey, conducted by the Department of Health, of all retail outlets that sell tobacco. Youth volunteers ages 15-17 visited a random sample of 304 stores statewide and attempted to purchase tobacco.
This year's rate is the highest in nine years, the previous high being 11.3 percent in 1999.
Clerks who sell tobacco to minors are subject to a $500 fine, while store owners face no penalty.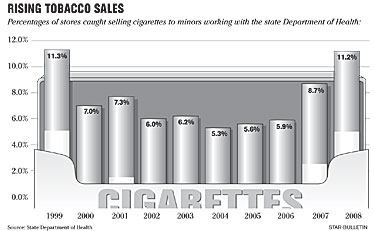 [
click to enlarge image
]
Officials have been pointing to the promising results of a separate survey of Hawaii high schoolers in grades 9 to 12. Of those surveyed last year, 12.8 percent smoked at least one cigarette a day in the past 30 days, well below the national average of 20 percent and down from a state high of 27.9 percent in 1999.
Yvonne Jacinto, 17, is a 12th-grader at Farrington High School who participates in the enforcement program, working with undercover police officers.
She said the program is effective, as she is asked for age or ID more frequently now than when she began.
When asked about the $500 fine that clerks face for selling tobacco to her, she says, "I feel bad, but we're doing it for the right reason."