Honolulu Advertiser announces 54 positions to be cut
Advertiser hangs layoffs on economic conditions
STORY SUMMARY »
The Honolulu Advertiser will cut 54 positions, including editorial cartoonist Dick Adair and some 45 other union employees, roughly 9 percent of its work force, the newspaper announced yesterday.
The announcement came as members of six unions are working under extensions of contracts that expired last summer -- and as its parent company reported a 10 percent drop in revenue and a 36 percent drop in second-quarter profits.
Advertiser President and Publisher Lee Webber noted, in announcing the cuts via e-mail, that "approximately 4,500 newspaper positions have been eliminated at American newspapers since the beginning of 2008."
"We are not immune to the national trends affecting the newspaper industry," he said.
---
FULL STORY »
Citing "unfavorable economic conditions" and challenges to the newspaper industry in general, the Honolulu Advertiser announced yesterday that it will cut some 54 positions, or about 9 percent of the work force, including 45 to 46 union positions.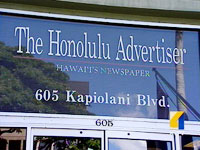 This morning The Honolulu Advertiser laid off 54 workers saying that a soft economy, shrinking budgets, tighter competition and changes in the industry are factors of the lay offs.
President and Publisher Lee Webber notified employees of the unspecified cuts via e-mail, indicating that affected employees were to be notified by supervisors.
In a subsequent e-mail, Editor Mark Platte said three full-time and one part-time newsroom employees would lose their jobs. "As you probably know, we are also not filling several newsroom positions, some of which have remained dark for months," he said.
The newspaper announced plans in June 2007 to cut 30 of its 576 full-time employees through buyouts and early retirements.
Webber and Platte were in meetings yesterday afternoon and did not return Star-Bulletin calls.
It could not be determined how many vacant positions were among those being cut, versus employees who were losing their jobs.
"We were meeting in what we thought were some productive meetings yesterday, and they didn't breathe a word of this," said Wayne Cahill, administrative officer for the Hawaii Newspaper Guild, one of six unions representing Advertiser employees.
Prior to yesterday's announcement the layoffs had been rumored and dismissed for weeks.
The company is supposed to tell the union first, Cahill said.
The 45 to 46 affected union positions were determined by Cahill based on union-specific lists of names he obtained from Advertiser officials yesterday. "There are eight or nine people we haven't accounted for," which could be the vacant positions, he said. Many Advertiser employees are represented by six unions collectively referred to as the Hawaii Newspaper and Printing Trades Council.
The two sides were to have met for contract talks again yesterday, but Cahill felt the need to address members' concerns in light of the news. Another bargaining session is scheduled for this morning.
"Certainly, this makes the negotiations harder, especially if this company is making money, which they steadfastly maintain that they are," Cahill said of the Advertiser specifically.
The membership approved a strike earlier this year by a 358-17 vote, but a 30-day strike notice must be issued by the union before any walkout can commence.
The topic of a previously scheduled guild meeting last evening was changed in light of the job cuts.
The highest-profile departure will be that of editorial cartoonist Dick Adair, who could not be reached.
The guild's contract specifies that layoffs are to begin with the lowest-seniority employees, but Adair has been with the paper since the early 1980s.
"That's something we're looking at closely because it doesn't appear that they're using seniority" as a basis for the layoffs, Cahill said.
Other newsroom cuts include Assistant City Editor Maureen O'Connell, photographer Joaquin Siopack and Christina Falima, a part-time photographer, videographer and imaging technician.
"I didn't know they were going to tell me on the phone on my day off," Siopack said. At the time his cell phone rang, he was preparing to enter the darkroom at Windward Community College, as part of a summer lab program in art photography.
His last day will be Aug. 10, and he does not know what he will do next.
Talking about the industry's massive job cuts, Siopack and his friends mused that "we got into this career because of our passion for storytelling, for documentary photojournalism." Were they to have to pick something else, "we wouldn't know what to pick because we already picked what we want to do."
Veteran photographer Jeff Widener volunteered to resign to enable Siopack to keep his job.
"We're really good friends. I was really touched by that offer, but that's not an offer I'm willing to accept," Siopack said.
The layoff announcement came the same day that Advertiser parent company Gannett Co., based in Virginia, reported a 10 percent drop in revenue and 36 percent drop in profits for the second quarter.