Rail opponents, city debate path to ballot
Foes want the issue decided this fall, but that has been rejected
STORY SUMMARY »
It would be up to the courts or the City Council to decide whether there should be a question on the November ballot to stop the city's planned $4 billion rail transit project.
Leaders of Stop Rail Now said they are considering legal action to challenge the city clerk's ruling that their petition initiative cannot appear on the Nov. 4 general election ballot.
Several councilmembers are open to introducing a measure to create a ballot question, though it has slim chances of passing within the next several weeks since three readings and a six-vote approval are required.
Mayor Mufi Hannemann, on his 54th birthday yesterday, said he is open to new legislation but that the language cannot be as restrictive as Stop Rail's petition question.
"It's not my call," Hannemann said. "I'd like to see the wording. I would have difficulty approving it if the ballot initiative went forward and they took rail off the table."
Meanwhile, the city clerk is already planning for a special election, which could happen as early as spring.
---
FULL STORY »
As an anti-rail group considers legally challenging a recent city decision prohibiting a petition-initiated question on the November ballot, the City Clerk's Office is planning for a special election as early as next year.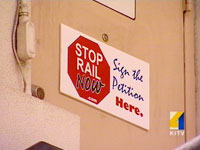 The city clerk blocked Stop Rail Now's petition saying the rail issue must be held in a special election because that's what Stop Rails petition asks for.
City officials say there is a slim chance Stop Rail Now could succeed in getting a question on the Nov. 4 election ballot that asks voters to ultimately kill the city's proposed $4 billion rail transit system.
The only way a November ballot question could appear is if a judge rules in favor of Stop Rail Now or if the City Council passes legislation within the next few weeks.
"Stop Rail Now has sufficient signatures to turn in on Aug. 4 and there is no need for a special election apart from the general election," Stop Rail Now's attorney, John Carroll, wrote in a letter to the City Clerk yesterday, rebutting her decision and threatening a lawsuit.
City Clerk Denise De Costa wrote in a letter Tuesday to Stop Rail Now that a ballot question cannot appear in the general election because the group had called specifically for a special election. Signatures for petition initiatives calling for a special election must be received at least six months before the general election, according to the City Charter.
The ruling surprised city and community members who had been following Stop Rail Now since the petition drive started in April and garnered much media attention and contentious public debates.
De Costa, who said she had met with Stop Rail Now leaders before they took their campaign public, advised them on the requirements of a petition initiative but refrained from telling them how to word the document.
If they had left the phrase "special election" out, De Costa said, they could have succeeded in getting the question on to the November ballot if they collected 44,535 signatures from registered voters by Aug. 1.
She said the issue can be resolved out of court if Stop Rail Now agrees to a special election to be held as early as next spring.
"It would give the petitioners a lot more time to gather signatures, and we would just be preparing for a special election," De Costa said. "There would be no question, no conflict with the (City) Charter and no need to spend excessive funds in litigation. We want to honor the people that signed the petition."
Meanwhile, Lt. Gov. James "Duke" Aiona said the City Council should lead the way and put the issue on the ballot in November.
"My call to action is, I am calling upon their character, calling upon their leadership qualities to step forward and do what's right," said Aiona, who did not sign the petition. "I have a lot of questions about this project. I too would like to have a say in this. I would like to have a vote in this."
Councilman Charles Djou said he will introduce a measure for a charter amendment asking voters whether the city should build a rail transit system. The measure would need to undergo three readings and receive at least six of nine votes to pass. A majority of councilmembers support rail.
Star-Bulletin reporter Richard Borreca contributed to this report.