Retail center may be built on Iwilei site
A Pennsylvania company seeks to build the complex near Dole Cannery
A Pennsylvania-based redevelopment firm is looking to build an expansive retail center on four acres in Iwilei next to the Dole Cannery shopping complex.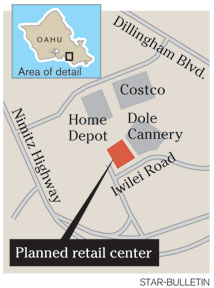 Weston Solutions Inc. has secured $11 million from EnviroFinance Group LLC to remediate the former Gasco manufacturing plant site, at 616 Iwilei Road., which it will redevelop into a boutique retail center or space for another big-box chain to complement neighboring Costco, Home Depot and the planned Lowe's.
"All retail or commercial opportunities are open to us," said Frank Janicek, Weston senior program manager. "Conceptually, it looks like retail probably is the highest and best use of the property."
The bulk of the 30-month loan secured last month will be used for environmental remediation of the 174,240-square-foot parcel, which is contaminated from high concentrations of benzene from more than 70 years of industrial operations. The company's goal is to remediate and develop the site by 2010. Additional construction may take up to a year or 18 months depending on the type of retail. Weston has talked with four to six potential parties -- developers and retailers --looking to partner or acquire the site once remediation is completed, Janicek said.
Weston bought the site in December for $4 million, according to county records.