Pedestrian death is third in 11 days
Police are investigating the third pedestrian fatality on Oahu in 11 days.
All three victims were hit while in a crosswalk.
The latest victim, a man whose name was not released, was crossing Farrington Highway near Maipalaoa Road in Maili about 10:35 p.m. Monday. Police said he was headed mauka and was hit by a 2003 four-door silver Volkswagen in the inside Honolulu-bound lane.
The victim's left leg was severed, and he was taken in critical condition to the Queen's Medical Center, where he died.
Police said the man had been tentatively identified and was in his 40s.
The Medical Examiner's Office had not identified the man as of 8:30 last night.
The driver of the vehicle, a 24-year-old man, and his passenger, a 17-year-old boy, were not injured.
Police said speed was a probable factor.
The man is the 27th traffic fatality on Oahu this year, compared with 40 at this time last year. He's also the 10th pedestrian fatality, compared with 12 at this time last year.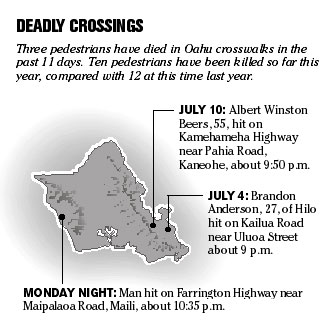 CORRECTION
Friday, July 18, 2008
The pedestrian killed in Maili Tuesday was not homeless. This article originally said he was.