football
Brennan says he is ready for Redskins training camp
Redskins' Colt eager to throw passes
STORY SUMMARY »
|
READ THE FULL STORY
Following a gloomy first half of 2008, the skies are starting to brighten over Colt Brennan.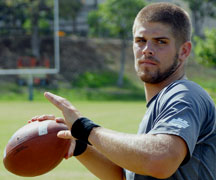 The Washington Redskins announced yesterday that the former Hawaii quarterback had agreed to a four-year, $1.8 million contract, regarded as standard for a sixth-round draft pick. The deal includes a $96,800 signing bonus.
Brennan said his hip injury sustained in the Senior Bowl has fully healed and that he is preparing for training camp, which opens Sunday in Ashburn, Va.
"It's not about the injury anymore," Brennan said. "It's just about being back in shape and getting a chance to go out there on the same level as everybody else and competing."
JASON KANESHIRO
---
FULL STORY »
Agreeing to terms on his first professional contract was nice.
But the money coming his way was not what had Colt Brennan hyped up yesterday.
"I'm more so glad that I got cleared medically and I'm allowed to go out there on Sunday and start working out a hundred percent," the former Hawaii and current Washington Redskins quarterback said yesterday in a phone interview. "I've got nothing holding me back and I got my contract done, and I'm just glad to get back in the swing of things."
The Redskins announced yesterday that Brennan had agreed to terms on a deal. He will receive a signing bonus of $96,800 and make $1.8 million over four years.
"I knew going into this whole situation that I was getting a standard deal for a sixth-round pick, and that was great with me," Brennan said. Agents Bruce and Ryan Tollner "tried everything to make it as best as possible for me, and I think everybody's happy with everything that worked out."
The Redskins open training camp on Sunday in Ashburn, Va., with Brennan expected to compete for the No. 3 quarterback spot behind Jason Campbell and Todd Collins.
Brennan is recovering from surgery in April to repair a torn labrum in his hip. He had limited action during the Redskins' organized team activities (OTAs) but said he was recently cleared to go full speed again.
"I'm here last week and all this week just running and lifting hard and trying to get back in shape and get ready for Sunday," said Brennan, who finished third in Heisman Trophy balloting last season, set the NCAA record for career touchdown passes with 131 and led the Warriors to a Sugar Bowl berth.
"I've got a clear bill of health, and I've got to go out there and prove myself. For me it's about getting in shape and getting back to using my legs and firing a bunch of muscles I haven't fired in a long time."
Brennan spent part of yesterday meeting with Joshua Miyazawa and his family. Miyazawa, a 5-year-old who recently had heart surgery, was in Washington to participate in the annual tee-ball game at the White House.
"I got to meet a great family, and it was great to see some Hawaii people and just have fun and hang out," Brennan said.