Former state officials tout city's rail plan
The mayor says the civil engineers have objective expertise
In his latest promotion of the city's proposed $4 billion rail transit system, Mayor Mufi Hannemann called a news conference yesterday at which four former state transportation directors endorsed the project.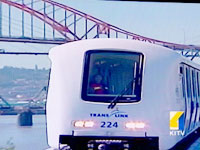 Monday, he brought out 4 former state transportation directors from different administrations to speak up for the project.
In the conference at Honolulu Hale that was similar to a panel discussion, Hannemann emphasized that the former state transportation directors are experts with civil engineering backgrounds who can give "objective" information on the city's rail transit project.
"Everyone is talking about wanting to hear other voices and the debate to be elevated," Hannemann said yesterday. "Who better than the ones who were put on the hot seats? They're all state transportation directors who are civil engineers."
The group convened by Hannemann included city Transportation Director Wayne Yoshioka, former state Health Department Deputy Director James Kumagai and former state Transportation Directors Rod Haraga, Kazu Hayashida, Fujio Matsuda and Ed Hirata.
Matsuda, who served as director from 1963 to 1973 under Gov. John Burns, recalled Honolulu's previous failed attempts to build a mass transit system. "We have studied this problem to death," he said. "We gained a tremendously higher cost of getting this transit system started and put into service."
Leaders of Stop Rail Now criticized the group of former directors, challenging many of their statements that a rail system will alleviate traffic, is environmentally beneficial and is worth the investment.
"If these people were ever any good at their jobs, we wouldn't have gridlock, we wouldn't have bottlenecks, we wouldn't have neglect and we wouldn't have roads and highways and freeways full of potholes," Eric Ryan, a Stop Rail organizer, said in an e-mail.
As the deadline approaches for Stop Rail Now to collect enough signatures to block the project through a petition initiative, anti- and pro-rail forces -- including Hannemann -- have stepped up in media campaigns and public rallies.
Neal Milner, a University of Hawaii political scientist, said Hannemann is trying to bolster his arguments for this project by bringing in well-known local transportation officials. "The main thing he's trying to do here, even more so than stopping the petition, is trying to get the main issue back on track," Milner said.
Gov. Linda Lingle sent out a news release this weekend announcing that she had signed Stop Rail Now's petition, joining other notable signers including former Gov. Ben Cayetano.
Haraga, who served under Lingle until she dropped him in December 2006, said he remembers her telling him in 2003 to work with the city to ensure a rail system is built. He now works for the city's Department of Design and Construction.


CORRECTION
Wednesday, July 16, 2008
Rod Haraga, former state transportation director, works for the city's Department of Design and Construction. This article originally said he works for the city Transportation Services Department. Also, Senate President Colleen Hanabusa did not sign a petition initiative to stop the project; the article reported that she had.