---
Hawaii Kai folks get magical deal
Hawaii Kai residents are the first to be offered a discount on tickets to "The Magic of Polynesia," John Hirokawa's Waikiki show.
Roberts Hawaii will offer the reduced price to 13 Oahu neighborhoods for two-week periods through the summer.
Tickets will sell for $25; $15 children. The regular kamaaina rate is $42.
The offer is good for Hawaii Kai residents through July 27. The next neighborhood to receive the discount will be announced on KHON's "Hawaii's Morning News" and online at www.robertshawaii.com.
"The Magic of Polynesia" shows are nightly at the Ohana Waikiki Beachcomber. Call 954-8652 and ask for the "Magical Nights for Hawaii Kai" ticket price.
Waikiki Aquarium has summer events
The Waikiki Aquarium is opening its doors for an array of summer activities, from a nighttime tour of the aquarium's gallery to "Shark Olympics," where participants will compete to make the best shark model. Activities run through the end of September. To register call 923-9741 or visit
www.waquarium.org
. Discounts are offered for members of the aquarium.
» Marine Munchies: Learn what fish eat in an after-hour feeding where you get to feed them yourself; 4:15 to 6 p.m. Mondays in July and Aug. Cost is $20; $15 children.
» Sharks!!! And Other Creatures of the Reef: Visit the predator tank and meet shark biologist Gerald Crow; 6 to 8 p.m. Friday. Cost is $12.
» Aquarium After Dark: A flashlight tour of the aquarium; 7 to 9 p.m. July 22 and Sept. 12. Cost is $10; $7 children. Pre-registration required.
» Overnight with the Sharks: Spend the night and build a model to compete in the "Shark Olympics"; 7 p.m. Aug. 14. Cost is $35; $30 children. Pre-registration required.
» Overnight Lights: An overnight event where participants will learn about glowing animals. 7 p.m. to 8 a.m. Aug. 22. Cost is $35; $30 children.
» Small Fry: In five weekly sessions, children ages 1 to 3 will be introduced to the sea; Sept. 2 to 30. Session A is 8:30 to 10 a.m.; Session B is 10:30 a.m. to noon. Cost is $80 per adult and child team.
» Home for a Hermit Crab: An afternoon spent learning about hermit crabs and their environment; 3:30 to 5 p.m. Sept. 22. Cost is $16 per adult and child.
Dentist collects school supplies
School supplies for needy children may be dropped off at the dental office of Dr. Wilfred Miyasaki, 1139 Bethel St.
Miyasaki's "Lokahi Back to School" collection will continue through Sept. 30. Supplies such as pens, pencils, crayons, notebooks, folders, backpacks and monetary donations will be accepted.
Call 533-0000.
Vote online for Oceanic jingle
Help choose a jingle for Oceanic Time Warner Cable's My Island Home Phone service, by casting an online vote beginning tomorrow.
Oceanic has posted the best 20 60-second jingles at Clear Channel Web sites: hot939.com, island985.com, khbz.com, khvh830am.com, ksskradio.com and star1019.com. Voting ends at midnight July 25.
Six finalists will sing their jingles at the Road Runner Music Hall, 5 to 7 p.m. Aug. 8, for final judging. The winner receives a $1,500 gift card from Best Buy and five years of home phone service.
UPDATE
Construction delays 'Waikiki Nei' opening
The opening of "Waikiki Nei," the stage extravaganza at the Royal Hawaiian Center, has been delayed from today to next Tuesday.
The show, the subject of a cover piece in this section yesterday, has fallen victim to construction delays.
Call 931-6100 or visit www.waikikinei.com.
ON TV
2-part interview reveals Roy Sakuma's painful past
Roy Sakuma is probably Hawaii's most well-known ukulele teacher, his smiling image and upbeat spirit familiar through his studio, his annual Ukulele Festival and his summer concert series at the Honolulu Zoo.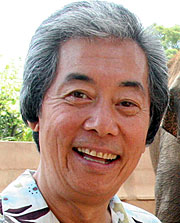 But behind that outward success is the story of a painful childhood, which Sakuma talks about publicly for the first time on tonight's "Long Story Short with Leslie Wilcox" on KHET/PBS.
Sakuma talks about his mother's severe mental illness - she was diagnosed with schizophrenia - and his brother's mental breakdowns that led to suicide. His father was often absent, he says, and he did poorly in school, eventually dropping out.
It is these struggles, though, that help him relate to his ukulele students, Sakuma says on the show.
Sakuma's interview will be presented in two parts, at 7:30 tonight and next Tuesday. The shows will repeat at 2:30 p.m. Sundays as well as on KUMU-FM radio at 7 a.m. Sundays and online at www.pbshawaii.org.