Takata's time
The Hawaii judoka stops by his alma mater on his way to Beijing
STORY SUMMARY »
|
READ THE FULL STORY
Shobukan, one of the oldest judo clubs in Hawaii and the U.S., will celebrate its centennial this November.
Consider yesterday's clinic with Taylor Takata a very fitting kickoff for Shobukan's 100th.
Takata, who began training at the Liliha dojo at age 10, was the featured player in two sessions at the 'Iolani School gym. He returned to his alma mater and to his roots with a new title: U.S. Olympic team member.
"I still can't believe it," said Takata, who'll be competing in Beijing next month. "It's a dream come true."
Yesterday also made for a pleasant memory for Takata's former sensei at Shobukan. Dr. Larry Migita was all smiles when watching a number of former students on the mats, some of whom hadn't donned their gi in years.
"I'm happy to see so many of them again," Migita said. "But that's the sport. One of the things about judo is you get very close with the people you work out with, your sparring partners."
"They came back because of Taylor, but they also came back because of judo."
CINDY LUIS
---
FULL STORY »
The contradiction that is judo suits Taylor Takata. He wears it, that dichotomy, every day when he dons his newest gi, the one that carries the U.S. Olympic team logo.
Judo is cognitive dissonance at its best. Humility and cockiness co-exist on the mat of a champion.
Yesterday, Takata was just another player on the mats in the 'Iolani School gym. But, at the same time, he was also THE player, the school's first Olympian in that sport and just the third judoka from Hawaii who will compete at the Games.
His message to the youngsters who attended yesterday's clinic was simple: "It's not about the winning, it's about the doing your best."
It's a message he learned when first starting the sport at the Mililani YMCA, a message that was reinforced when moving to Shobukan Judo Club at age 10.
"You have to be cocky on the mat but not off the mat if you're going to succeed," Dr. Lloyd Migita, longtime Shobukan sensei, said yesterday. "Taylor is a good example of how it can be done. Off the mat, he's always been a gentleman. On the mat, he's aggressive and has the cockiness."
And the 26-year-old trains extremely hard.
"Taylor's work ethic is unmatched," said former U.S. World Judo Team member Todd Brehe, one of yesterday's featured clinicians. "There's not a single kid at the (U.S. Olympic) Training Center who works as hard as he does. He's super disciplined and his training regimen is so difficult.
"Can he medal? Anyone can win at the Olympics. It's whoever's sharpest, mentally tough. The goal is to fight your best. That's all you have in your control."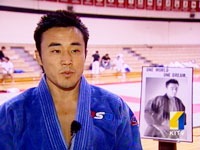 Hawaii's newest Olympian Taylor Takata, 26, came home for a few days before heading to Beijing Olympics.
Few who have followed Takata's career are surprised he's headed to the Olympics. Migita certainly isn't.
"Most times when kids come in, they want to play the weaker ones," he said. "Taylor always wanted to challenge himself by playing the stronger ones.
"The thing about judo, it's the person who makes the least mistakes who wins because one mistake can cost you. You have to be mentally strong. When Nick (Takata's manager Lee) called me from the trials and told me Taylor was the most focused he had seen him, I had the premonition he'd make it this time."
Takata had missed out in 2004 when, after needing to move up a weight class (60 kg to 66 kg), he lost to a two-time Olympian. Last month, he was top-seeded at 66kg (145.5 pounds) and earned a ticket to Beijing.
"I cried, I was so happy for him," Takata's sister Tobi said. "I'm so proud of him."
Despite the expense, Takata's father, mother and sister are all traveling to watch the competition. A ticket for the opening ceremonies is going for $2,000 and "we may watch a lot of the Olympics on TV in our hotel room," Takata's mother, Mae, said.
While the U.S. Olympic Committee and USA Judo pick up some of the tab, Takata has to cover most of his expenses.
To that end, a Hawaiian-style dinner is scheduled for 6 to 10 p.m. Sunday at 'Iolani School. The cost is $20 for students and $40 for adults. For reservations, call Nick Lee at 348-3267 or e-mail him at nicholasklee@gmail.com
Donations can also be made to Friends of Taylor Takata at any American Savings Bank.
Takata is grateful for any help.
"This is such a dream," he said. "I still can't believe it sometimes that I'm going."