Millionaire's body found
Hikers find his corpse near a Pali Lookout trail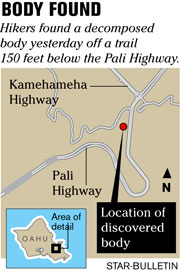 The body of a 36-year-old missing millionaire, Steven Thomas, of Lanikai, was found below the Pali Lookout yesterday afternoon.
Thomas, who had been diagnosed earlier this year with bipolar disorder, was reported missing since June 30 by his wife, Candis. The Honolulu Medical Examiner's Office this morning released Thomas' identity.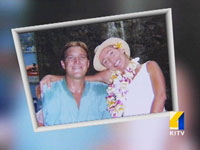 Candis Thomas has been searching beaches, parks and churches across the island for her missing husband, Steven Thomas.
His body was found by three hikers yesterday near a trail below the Pali Highway around 1:20 p.m. An autopsy that was performed this morning determined Thomas's cause of death to be injuries "consistent with a fall from height," according to Chief Medical Examiner Kanthi De Alwis.
Thomas had a tattoo on his right leg, which made his decomposing body easier to identify, said Sgt. Kim Buffett of Honolulu CrimeStoppers. His mother and brother had flown to Kauai on Saturday to look for Thomas there, since that was his favorite island, Buffett said.
It appears that Thomas' body had been at Pali Lookout for at least three days, Buffett said.
Thomas has been diagnosed with bipolar disorder, which is also called manic-depressive illness, but had refused to take any medical treatment for the mood-altering disease.
Thomas founded a Colorado-based software company, Webroot Software, which developed a successful software called Spy Sweeper to combat hackers on the Internet.
His wife said the couple were planning to move to Boulder, Colo. However, Thomas told her he wanted to stay with his mother and cousin in Waikiki for several days while she left for the mainland. "He loved living here," Buffett said. "From what his family told us, he never wanted to leave."
Thomas was last seen at about 5 p.m. June 30 at the Sheraton Princess Kaiulani Hotel. He had told his family that he was going to the bathroom and never returned.
In a public plea for help last week, his wife said her husband "thinks everyone on the island is out to get him. He thinks the military is involved, he thinks that aliens are involved."